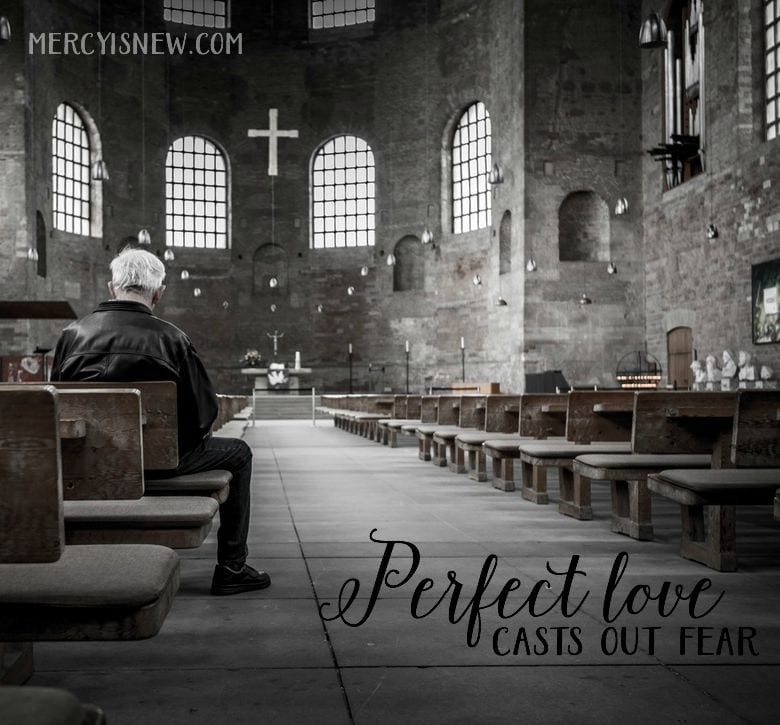 "Love has been perfected among us in this: that we may have boldness in the day of judgement; because as He is, so are we in this world. There is NO FEAR in love; but perfect love casts out fear…"
1 John 4:18-18
I love that phrase, "love has been perfected among us…"
And the result of that perfecting? Boldness, like Jesus, with no fear, because there is no fear in love.
So when I'm lacking courage and am feeling fearful, I'm not trusting in His perfect love. I'm worrying and not trusting. His love is perfect, his love actually casts out fear. He is sovereign. When I really sit and flesh out my fears, I truly have nothing to fear. He's got this. He has a plan, a good one at that! (ROM.8:28) He ordained the days of my life as well as my kids lives before we were even a thought here on this earth (Psalm 139.)
I have never associated myself with the term "boldness" but boldness is a lack of fear. Having courage in the face of trials (or even courage in the day to day!) means trusting His sovereignty and not leaning on my own understanding. It takes intentionality on my part, it takes making my trust bigger than my worry, it takes fixing my eyes on Jesus, it takes repetition.
So, how exactly does that perfect love cast out our fear? We trust Him. We totally and completely trust Him. Moment by moment, choosing to TRUST and not worry. Sometimes it is as simple as saying, "I trust You…" and saying it again and again til your anxiety calms down. We dig into the Word like never before, we study, we memorize, we pray the Word, we speak it aloud to our children. We turn on worship music. We go for a walk in nature. We count and name our blessings. We fight for joy.
Trusting God is not a one time thing, over and over again, moment by moment…learning to trust Him more! Tis so sweet to trust in Jesus…oh for grace to trust Him more!
Moment by Moment
Hymn lyrics Daniel Whittle 
Dying with Jesus, by death reckoned mine;
Living with Jesus, a new life divine;
Looking to Jesus till glory doth shine,
Moment by moment, O Lord, I am Thine.
Refrain:
Moment by moment I'm kept in His love;
Moment by moment I've life from above;
Looking to Jesus till glory doth shine;
Moment by moment, O Lord, I am Thine.
Never a trial that He is not there,
Never a burden that He doth not bear,
Never a sorrow that He doth not share,
Moment by moment, I'm under His care.
Never a heartache, and never a groan,
Never a teardrop, and never a moan;
Never a danger but there on the throne,
Moment by moment He thinks of His own.
Never a weakness that He doth not feel,
Never a sickness that He cannot heal;
Moment by moment, in woe or in weal,
Jesus my Savior abides with me still.