Welcome to this 31 day series where we will spend 31 days covering our homes in PRAYER!! We are also reading Radical Hospitality: Benedict's Way of Love
together and each day I will share a new quote from this amazing book. PLEASE join us in the comments section as we journey through learning to love others as Jesus loves us!
Read more details about this series and the book club here.
Read Day 1 here & print your October calendar of verses to pray.
Verse to Pray for Our Home
Luke 10:38-42
"As Jesus and his disciples were on their way, he came to a village where a woman named Martha opened her home to him.  She had a sister called Mary, who sat at the Lord's feet listening to what he said.  But Martha was distracted by all the preparations that had to be made. She came to him and asked, "Lord, don't you care that my sister has left me to do the work by myself? Tell her to help me!"
"Martha, Martha," the Lord answered, "you are worried and upset about many things, but few things are needed—or indeed only one. Mary has chosen what is better, and it will not be taken away from her."
Prayer:
When I invite others into my home, help me to choose what is better, knowing it will not be taken from me. Help me to not be so preoccupied with my house being perfect that I neglect the relationships in my own family and those who are coming as visitors. Help me to put others first.
Radical Hospitality Book Discussion
Find book here: Radical Hospitality: Benedict's Way of Love
I would LOVE to hear from you in the comments! How are you liking the book? What struck you the most??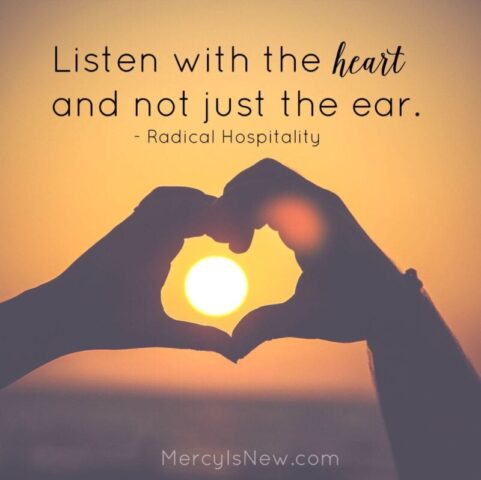 "Benedictine monks are taught to listen. Listen with the heart, and not just the ear." Radical Hospitality, p. 120
There is a whole chapter on listening in this book. The author states the importance of not just inviting and meeting and conversing with people, but truly listening with your heart. Using discernment to offer help and encouragement. Don't just listen with your body language, listen from the heart.
I think the story of Mary and Martha is so applicable here. In being hospitable, so often we feel like everything has to be perfect. Yet, the most important thing is most certainly not the home, the table setting or the decor. The most important thing is truly listening and caring for those who are in our homes!
"It is always easier to care for the world, to care for all the others, from a distance." Radical Hospitality, p. 124
I don't want to show others love from a distance, yet I know that I have. I've even done this to my own family. I'm so thankful that I'm a work in progress, aren't you?? He isn't finished with me yet, praise God!