Welcome to this 31 day series where we will spend 31 days covering our homes in PRAYER!! We are also reading Radical Hospitality: Benedict's Way of Love
together and each day I will share a new quote from this amazing book. PLEASE join us in the comments section as we journey through learning to love others as Jesus loves us!
Read more details about this series and the book club here.
Read Day 1 here & print your October calendar of verses to pray.
Verse to Pray for Our Home
Hebrews 13:2
"Do not forget to show hospitality to strangers, for by so doing some people have shown hospitality to angels without knowing it."
Prayer:
Lord, we never know to whom we may be showing hospitality. Remind us to look for You even in a strangers face.
Radical Hospitality Book Discussion
Find book here: Radical Hospitality: Benedict's Way of Love
I would LOVE to hear from you in the comments! How are you liking the book? What struck you the most??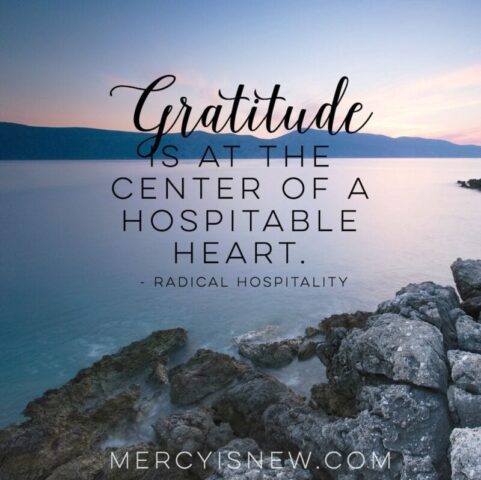 "Gratitude is at the center of a hospitable heart." Radical Hospitality, p. 202
Don't you love this? Out of the overflow of what we've been given comes the gift of opening our homes and hearts. Don't you find this to be true?
If you're content and at peace and THANKFUL for the life you've been given, you're more willing to invite others into that life. If you're discontent and always wishing you had this or that, wishing you were at a different stage of life, all those feelings of discontentment usually leave you feeling like you don't want to have anyone over.
Tomorrow we are going to discuss more about gratitude and where it comes from…