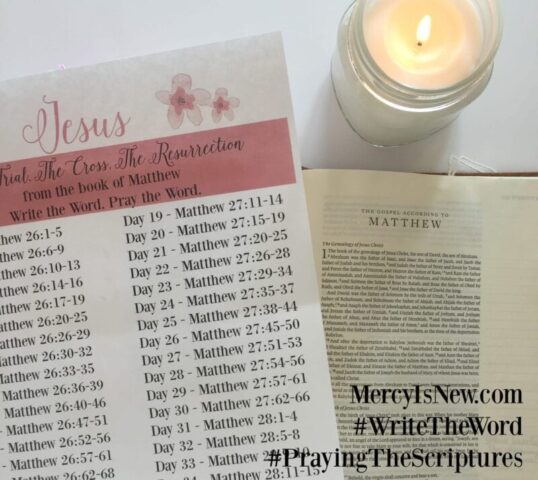 I can't believe Lent and Easter come so early this yer! I would love for you to join me as we WRITE and PRAY God's Word through the days leading up to our Lord's resurrection.
From the book of Matthew I have put together a schedule of verses, with a few grace days added in as well. Traditionally, Lent has been the 40 days (not counting Sundays) leading up to Easter. And Easter comes on March 27th this year!
Lent Scriptures
Join me as we journey through the book of Matthew and the last days of Jesus.
Jesus Write the Word. Pray the Word. PDF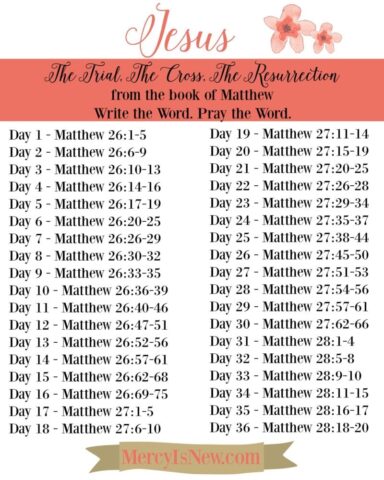 Click here for many more resources on Lent to use with your families and your own devotional time! 
**Join me each morning around 8am on my facebook page as we walk through Wait Only Upon God together! (ebook 1/2 off through 2/11 only 3.99)
Why Write the Word?
I have had the question of WHY we would want to write the Word of God.
Here are my best thoughts on that:
Take a quick moment and think about the things you write down throughout your day. Now, you may be more digital than I am, but I still WRITE in an actual paper planner, I write down my grocery list, notes to my kids, in my prayer journal…you get the idea.
But, why do we write things down? 
We write things down that we want to remember.
Why wouldn't we want to write down the most important Words there are?
His Word is life to us — write it down!
His Word is a treasure — treat it as such!
His Word is comfort to us — allow Him to comfort you as you write.
His Word is conviction to us through His Holy Spirit — soften your heart as you write. Allow the Holy Spirit to work in your life as you write and pray His Word.
Pictures from Instagram
Please be sure to join me over on Instagram with the hashtags #WriteTheWord and #PrayingTheScriptures so we can encourage one another and pray for one another!
As an example, here is one of my {nearly} daily Write the Word morning tidbits from my time with God: