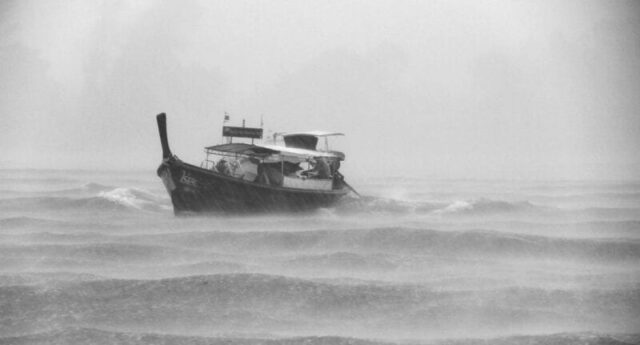 "We expect Him [Jesus] to come in the form of peaceful hymns or Easter Sundays or quiet retreats. We expect to find Jesus in morning devotionals, church suppers, and meditation. We never expect to see him in a bear market, pink slip, lawsuit, foreclosure, or war. We never expect to see him in a storm. But it is in the storms that he does his finest work, for it is in storms that he has our keenest attention.
Jesus replied to the disciples' fear with…'Don't be afraid,' he said. 'Take courage. I am here.'
Power inhabits those words.
We cannot go where God is not. Look over your shoulder, that's God following you. Look into the storm; that's Christ coming toward you."
from the book Fearless
 by Max Lucado
Oh how I needed those words. Later in this chapter (6) Max Lucado goes on to discuss Peter walking on the water. He says to Jesus, "Lord if it is You, command me to come to You on the water…" and Jesus says, "come."
"Peter never would have made this request on a calm sea."
Sometimes it is in the storms that we are prompted to step out of the boat and walk toward Jesus. Sometimes, the storm is what helps us to know Jesus is near. Sometimes, in the middle of the storm, we feel God more closely than ever before.
What storm are you facing today? Take heart, God is near. You are not forsaken, He is with you. Look into the storm, beloved, Christ is there. 
 More from Fearless
What if Faith Was Your Default?