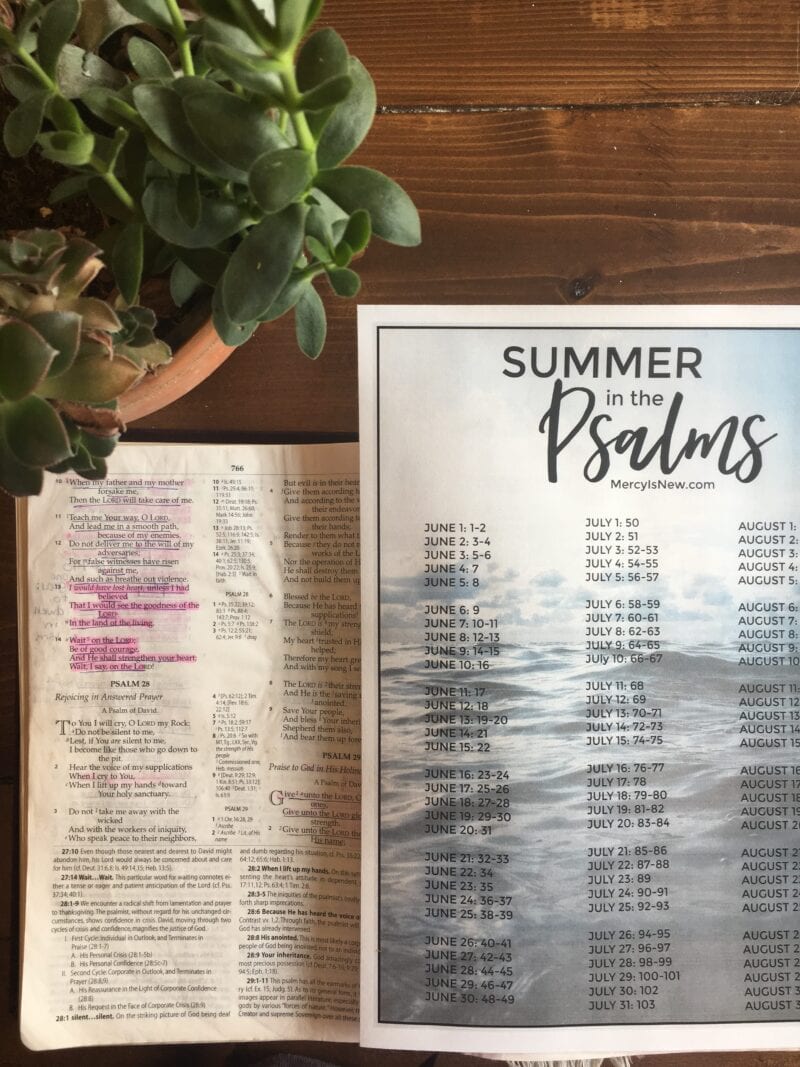 "If you need a guide for your ongoing relationship with God, read Psalms."
― Jim George
"The more deeply we grow into the psalms and the more often we pray them as our own, the more simple and rich will our prayers become."
― Dietrich Bonhoeffer
The Psalms have been my prayer book, my hymn book, my conversation with God book for so long. Any time I feel the nudge to slip away and spend time with the Lord, the Psalms is my go-to. If I feel a need to re-focus and get back to my first love, I head to the Psalms. We see the humanity of David. We see the battles fought, the confession and repentance, the worship, the HOPE. We see David crying out to God in the depths of his despair and we see him preaching the gospel to his heart as he reminds himself of where his true hope lies.
Spend a few moments each morning this summer reading one or two Psalms. You can take this deeper and WRITE the Psalms. Pray them. Journal them. Speak them. Choose one verse to meditate on for the day. Make this reading plan your own.
I will not be posting daily on social media, but if you want to follow my STORIES on Instagram or Facebook, that is where I will share the most often. I will periodically share a post in both of those places, too. Join me on Instagram or Facebook. If you decide to share posts as we go along, I would love for you to use the hashtag #summerinthepsalms
I would love for you to join me!
Extra: If you'd like a devotional to use as we read through the Psalms (totally optional!) I love this one by Timothy Keller! The Songs of Jesus: A Year of Daily Devotions in the Psalms. (I will follow the number of the Psalm and not the date as I'm reading.)
Print the Summer in the Psalms Reading Plan
Click the graphic or this PDF link to print your own copy!