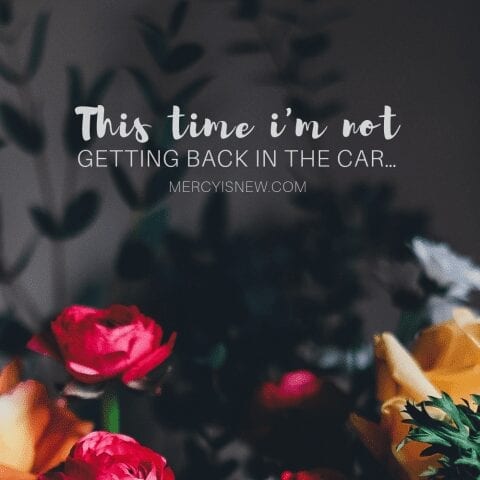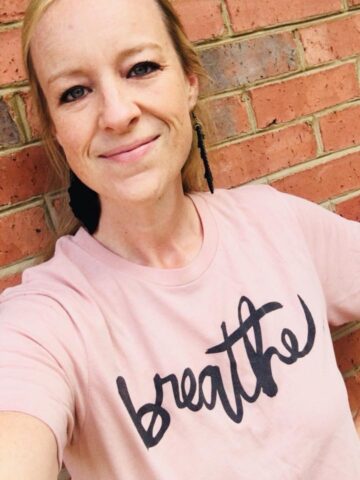 There have been 2 times in my life when anxiety has manifested itself physically in my body. (As opposed to the racing, obsessive thoughts that were my typical manifestation.)
The first time was nearly 13 years ago when I was walking into Walmart with 3 babies in tow. Just getting there had been monumental. I was on the verge of tears all the time. I was tired. I was hormonal. 3 babies in 3 years did quite the number on me.
Just walking into the grocery store seemed impossible. What would I do if one (or heaven forbid 2) of them started crying? How would I fit groceries into the cart with 2 toddlers and a car seat carrier? What if I couldn't make it through the store without crying?
In that moment I felt panic well up within me, in my chest, & I got back in the car and drove home. I couldn't do it.
13 years later I'm here again but I'm not getting back in the car. I'm fighting. I'm learning to breathe. Literally & figuratively. And there are 3 main things helping me learn to breathe deeply in this season. Yes, lifestyle change is HUGE. What we put into our bodies and how we move our bodies will help with our mental health SO MUCH. But, for today, these the immediate things helping me…
1. God's Word is a balm to my soul. I am once again falling in love with the comfort & peace He gives me when I sit in His presence. Oh, He is so good. Summer in the Psalms has been just what my heart needed. I have started a collection of verses that I am writing & putting in my phone for quick recall.
2. Breathing in essential oils in the moment of anxiety. For several moments. Y'all. The research is astounding for oils & emotions. Google it. Read pub med articles. Get high quality oils & start smelling them. Be weird. It's worth it. (Go here to read more of my story with oils.) 
3. Wise, trusted mentors & friends. I happen to have several of these amazing people in my life. One is my actual counselor. Several other friends will meet with me when I need it or "meet me" on Marco Polo. They speak truth from God's Word to me. They read pages to me from books to encourage me. They talk me off the ledge of bad decisions I want to make in the moment.
 They share their own experiences from years past. They help me not feel crazy. ha! 
 We all need a few people like that in our lives, right!?? 
"For no matter where I am, even when I'm far from home, I will cry out to you… When I'm feeble & overwhelmed, guide me into your glory where I am safe & sheltered. Ps. 61:2.
P.S. I wrote this a few days ago and already I'm breathing easier…life is a journey, so many seasons. I pray that through it all I can give Him glory for all He is doing…in the good and the bad and IN THE WAITING!