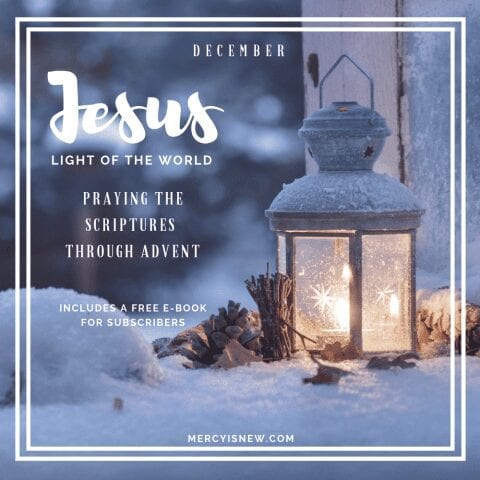 "The light shines in the darkness and the darkness has not overcome it…" John 1:5
What HOPE we have because of Jesus. Jesus, light of the world, our rescue…our salvation…our peace.
With so much darkness everywhere we look, let's spend the month of December looking to JESUS, the LIGHT of the world!
I would love for you to meet me each day RIGHT HERE as well as on social media as we read one verse pertaining to LIGHT with a short prayer.
What you can expect:
Jesus, Light of the World Advent Devotional
This ebook has been in my shop, but I am sending it to my subscribers FREE this year as a THANK YOU for your sweet friendship and the years of community & prayer we have shared here!!
You can subscribe to receive my blog posts by email (and then get the free book!) here! 
Schedule of Verses to Read
Praying Scriptures of Light Reading Schedule