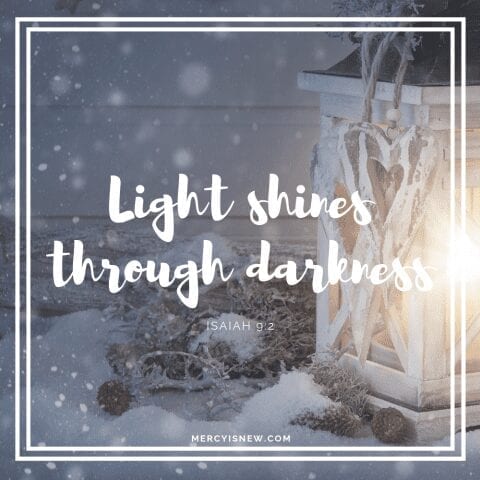 All the darkness in the world cannot extinguish the light of a single candle.

Saint Francis of Assisi
Scripture: Isaiah 9:2
"The people who walked in darkness have seen a great light; those who dwelt in the land of the shadow of death, upon them a light has shined."
Considering Light:
Without Jesus we are walking in darkness. Without Him we cannot walk in the light. Before the birth of Jesus, the people were living in the land of the shadow of death…and Isaiah prophesied that those walking in darkness would see a great light!
Many around us still walk in darkness without Jesus. Many around our world have never heard the name of Jesus. The harvest is plentiful, the workers are few. Ask the Lord to break your heart for what breaks His. Open your own eyes to the hurting around you. Who can you give a smile to today? Who needs your words of encouragement? Who in your path needs the light of Jesus today?
Prayer:
Lord God, we look around and see so many still walking in darkness. But we have the hope that they need! Help us not to be silent. It doesn't take much, God give us the strength to be an encouragement, to lend an ear, to smile, to give a hug where needed. You have called us to be the light, now give us the courage to do so!
To grab your free ebook of these devotions, click here to subscribe.
Find all the posts from this series here (or click on the image below)