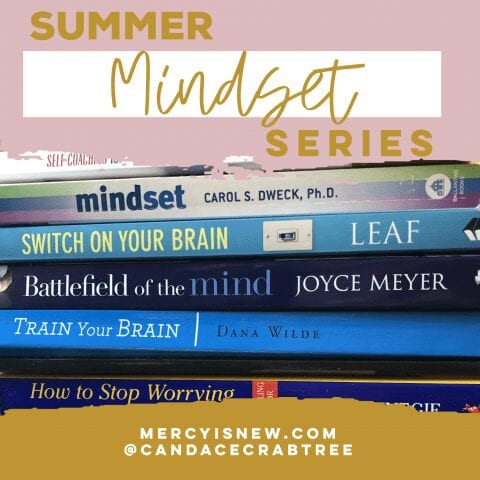 The battle for my mind started many, many years ago. I didn't realize it, but there was most definitely a war within me.
I used to think mindset "talk" was silly and unnecessary. Oh, how wrong I was.
If only I could have learned years ago the POWER of my thoughts and the POWER of my brain to learn to change my thoughts…and be TRANSFORMED by the RENEWING of my mind.
It has been fascinating to me to read the SCIENCE behind Romans 12:2 and see that science actually BACKS UP what God's Word tells us…that we CAN be transformed by renewing our MINDS. Change is possible!!! In the science world this is called neuroplasticity.
This summer I am spending time learning more about my brain, my mind, taking every thought captive and learning to change my stinking thinking.
I want to invite you to join me…
What You Can Expect
This is a very casual plan. I'm choosing to do some reading & learning this summer and thought I could share what I'm learning in the hopes some of you will be encouraged, too! When I read and share what I'm learning it helps to also hold me accountable to keep learning and working on myself!! Getting healthy & stronger…one day at a time!
Daily verses or quotes from various books on facebook, go follow here!
Monday Mindset Blog posts
More informal chatting & quotes on Instastories, go follow here! 
Favorite Mindset Books
These are favorite books I've read or am currently reading!
**Disclaimer: Not all of these are Christian worldview books.