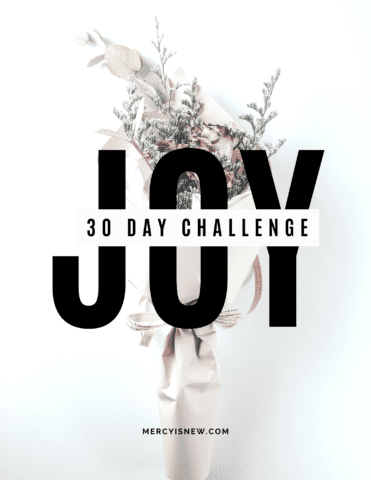 The words joy, joyful and rejoice appear in the Bible over 400 times! When something is repeated, I believe it is being emphasized as something of importance! We should take note!
The secular definition of the word joy is a feeling of great pleasure and happiness. What if we found great pleasure and happiness in Christ alone?! What if we lived our lives like HE is the ultimate gift and joy bringer!
Let's spend the month of September CHOOSING JOY and learning the POWER of finding our joy in CHRIST ALONE. Does He give good gifts that bring us joy? Yes. But our joy, hope & peace cannot be based upon those things. The ultimate basis for our joy must be a firm trust in Jesus no matter what our circumstances may be. Or we will live a life of continual disappointment.
HOW TO PARTICIPATE
You can click & download the verses below and save to your phone or print if you like!
Join me on my Instagram stories each morning for a very short chat about each verse.
Join me in our Facebook community (I have re-opened my old Bible study group!) for a weekly conversation where we can join in with comments and one longer video per week on the topic.
HOW TO TAKE IT DEEPER
Write the Word each day. Grab a journal and a favorite pen, and write the verse each day.
Journal & pray through each verse.
Do your own word study on the word JOY from the Bible.
Choose a passage to memorize on the topic of joy.
PRINT THE SCRIPTURE PLAN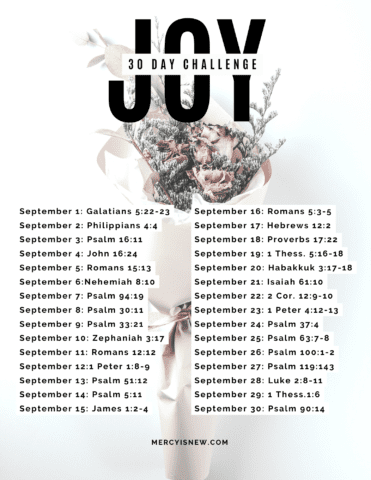 JOY CHALLENGE PHONE WALLPAPER
We are going to be talking about doing things in each of these categories during the joy challenge! Save this graphic to your phone as a daily reminder during the month of September!