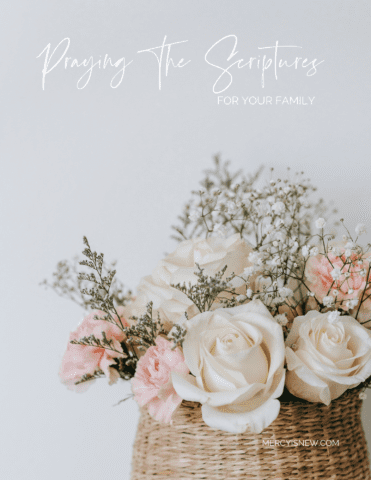 We will never be perfect parents, but we can be praying parents.
Spend the month of August praying one Scripture verse over your family with me! (Keep reading to get a FREE downloadable ebook to go along with this series!)
This right here is the very praying the Scriptures plan that set this whole blog in a new direction. After this series, which first took place in 2014, I began sharing monthly themes, Scripture plans and also book studies that we've done together for 9 years now! I can hardly believe it!
August is the perfect month to spend praying for your family, your marriage, your children. Some of us head back to school, some have a few more weeks of summer, some of us have grown children, some of us will instead pray for grandchildren or the children we work with at church. If you are not a parent, if you are unmarried, you can still participate! I encourage you to intercede for others in your life with these same verses! They will receive the blessing of your prayers and you will receive the blessing of praying for others for 31 days straight!
JOIN ME ON INSTAGRAM
Each morning in my stories we chat about the verse for that day together.
FREE EBOOK
I have created for you a simple PDF that you can download and print if you would to write and journal your way through these prayers! This would be a lovely thing to print out and keep for your kids, too! The ebook will have one page for each verse/day that you can print.
To receive the ebook straight to your email, subscribe to my weekly newsletter/blog subscription. The ebook will be sent on Friday, July 28th to all subscribers. After this time period, you will be able to find the ebook in my online shop! (Make sure to check spam for the email, I will send it twice in case you miss the first one.)
AUGUST VERSES
You can download this page and print it or save it to your phone and use it daily to read & meditate & pray through the passage!
Click this link to download the PDF if you'd like a higher quality page to print.