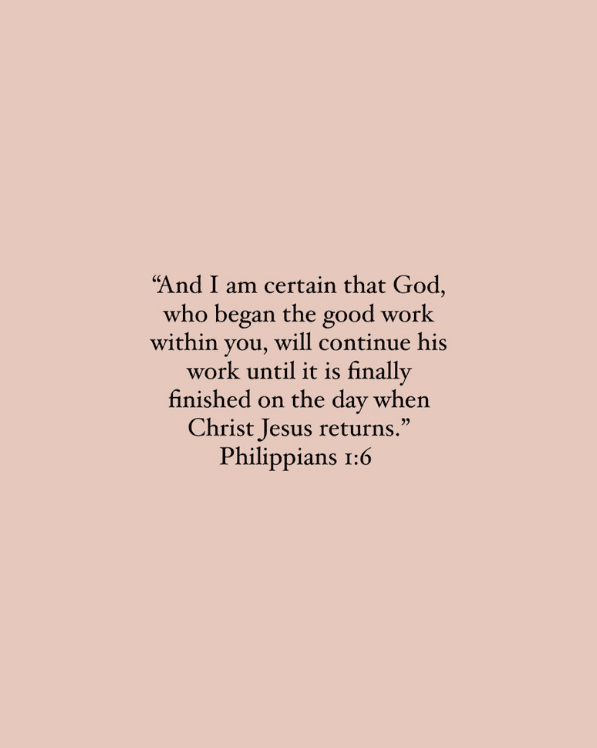 This week at choir camp I used this verse in one of our lessons. As the words were coming out of my mouth I felt a catch in my spirit.
It's as if the Lord was speaking these words over me Himself, right there, in that moment.
But I was convicted as well. "Candace, you're speaking these words of life over these kids but you don't believe it for yourself."
If I'm honest it's been a hard few months. So much working on myself like never before, seeking wisdom, outside counsel, praying & crying on my floor, giving up on myself ever getting it right.
And this verse has taken on almost a new and very personal meaning for me.
I *do* believe His Word is true. I get on Instagram every morning because I believe it and I pray you will be encouraged by it and believe it too. But sometimes His promises are hard to hold on to for yourself. Anyone feel this way??
Sometimes you think you've messed it up one time too many and that good work He started can never be completed.
Lately, I have even felt like a hypocrite for showing up here and trying to encourage you. A sweet, wise friend reminds me it's the enemy. It's spiritual warfare. The enemy doesn't want me talking about Jesus and offering anyone hope. And she's right.
But friends, we have to CHOOSE belief. Again and again. And again tomorrow. I believe, Lord, help my unbelief.
I choose to believe I am who You say I am. And you say you started something GOOD in me. And you're going to finish it.
For Your glory, God. For Your Glory.