I want to share with you a sweet tradition that my husband's family passed down to us. His mom always made a TOMB CAKE and I have found a way to keep it simple.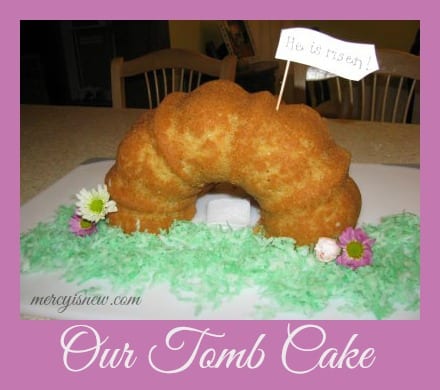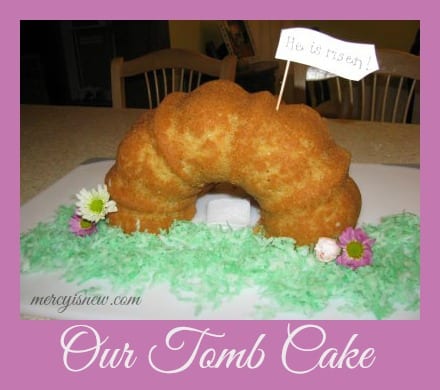 My husband grew up with a tomb cake to celebrate Easter each year with his family. I kind of cheated and created my own tomb cake that wasn't quite as time intensive in the kitchen. Because, remember, I don't exactly love cooking and spending hours in the kitchen. 🙂
Items Needed
1/2 of a bundt cake (homemade or store bought)
green food coloring (just a few drops)
coconut
real flowers
toothpick & piece of paper for banner
tiny piece of cloth to fold and place inside the empty tomb
Instructions
To make this tomb cake, you need to bake ANY type of BUNDT cake! You can even BUY one!! One of those rounded angel food cakes would work also!
When you have the bundt cake, cut it in HALF.
Stand that half up on it's side. Voila! An empty tomb!
Once you have your tomb, I like to add green colored coconut for grass, a few real flowers, a sign that says "He is Risen!" and even a tiny piece of white cloth for Jesus' clothing was was found folded in the tomb.
Another fun idea is to use LEGO soldiers to guard the tomb!! My MIL did this one year when she had all of the grandkids over for Easter. Such a fun addition to the tomb cake!
You could use an ANGEL from Christmas and lego soldiers/figures from just about any Lego set!! Your kids will be super impressed. 🙂 My mother-in-law iced her tomb cake with chocolate frosting, but I usually left mine without icing. Whatever you prefer!
More Christ-Centered Easter Ideas