Alright, y'all. I want to hear from you today! Who is loving your journaling Bible? What "extras" have you found that you use the MOST? What extras did you THINK you would like, but it turns out, you don't. Don't leave me hanging…I'm sharing my favorites, now I want to hear YOURS.
If you're new around here, I have a page of recommended resources that lists all the details like which Bible I'm using and the pens I use, etc.
I also have this introductory post to my journaling Bible as well as a post sharing my favorite pens & highlighters. Check out my first entry using paint, as well as how I use my journaling Bible as a prayer journal!
So, if you've clicked around to ANY of the awesome journaling Bible inspiration around the web, you will see that some of these women are A.MA.ZING artists!! While I consider myself a creative person, most of my creativity lies in the field of music, not art. I absolutely adore the watercolor painting some do in their Bibles but I have not been brave enough to try it yet.
What you will find mostly in my Journaling Bible is WORDS. I love fonts, letter stickers, and handwritten notes for my children to find one day. 
So, I have a little thing for letter stickers.
Favorite Letter Stickers for Journaling Bible
Label Letters by Tim Holtz Idea-ology, 900 Tiny Stickers, Black/White, TH93072 — these are my NEW FAVORITE JOURNALING BIBLE extra! (sorry I shouted at you, I get excited about letter stickers, yes I do!) When I opened these from my amazon package, I immediately thought, "WOW, I had no idea these were so SMALL" but it turns out, they are the PERFECT size to fit an entire word into the column of my Bible! Some of my other letter stickers are so big that I can't fit words in the columns. So, I've already used quite a few of these.
Flip Pack Sticker Embellishments-Traditional Alphabet – I just LOVE the colors of these stickers! I have several packs of each of these!
K&Company Die-Cut Stickers, Kelly Panacci Blossom Alphabet – these are so pretty!
Paint for Journaling Bibles
I only very recently decided to try out the paint that I saw Shanna from Illustrated Faith using. Check out this post where I share my FIRST page in my journaling Bible that I painted! Squeal!
So, here is the paint that I used — it is LIGHT, and it does NOT bleed through the pages!! Also, this tube will last a LONG time, because it takes a tiny drop of this stuff to cover one whole page in your Bible!
Liquitex Paint Titanium White
 | Liquitex Cerulean Blue Hue
 | Liquitex Iridescent Rich Gold
 | Liquitex Cadmium Red
 | Liquitex Medium Magenta
 | Liquitex Oxide Green
| Liquitex Aqua
I used the aqua on this entry, read more about this journaling page here.
I also recently tried out WATERCOLOR in my journaling Bible! Read about that entry here!

Label Maker
Ahhhhh!!! I know how much you love playing with label makers! Well, why not put them to good use with your Bible journaling??
This is the label maker I have: DYMO Embossing Handheld Label Maker
 But if you already have one at home, use it!
See the picture above, the word "salvation" was used with my label maker. Swoon.
Washi Tape for Journaling Bibles
Have you discovered washi tape yet?? Take a peek at my journaling Pinterest board, you will see lots of inspiration. I love it!
So, what exactly do you DO with washi tape in your Bible? Oh the options are endless. I have noticed a lot of people make little tags or markers they stick onto their pages. Or just use it to add some color. I'm sure there are much more creative people out there creating with washi tape, too!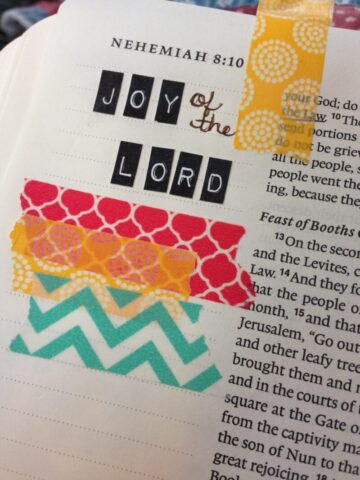 Ok, so your turn! What extras do you LOVE? 
Journaling Pinterest Board