This semester I am leading a small group of middle school girls through the Armor of God
Bible Study by Priscilla Shirer. We are using some other resources, books and ideas that I wanted to share with you, too!
When I was growing up, though I grew up in church, I don't remember hearing much about the devil, satan, spiritual warfare, etc. I'm so excited to share these TRUTHS with my girls and the other sweet girls in this class.
Items Needed for Class
For this class you will need the DVD set Armor of God (DVD Kit)
 to watch through the study. 
Each student will need:
Another book that we are using hand-in-hand with this study is called This Means War: A Strategic Prayer Journal
. I originally found this for my son to use, but when I started reading through it, I realized it would be hugely beneficial for the middle school girls as well!

For our first class, we watched War Room together!

Our Semester Schedule & Syllabus
I am sharing the semester syllabus (15-week) that I used with my students, but you tweak your schedule and make it work for you!
The Armor of God Bible Study Syllabus PDF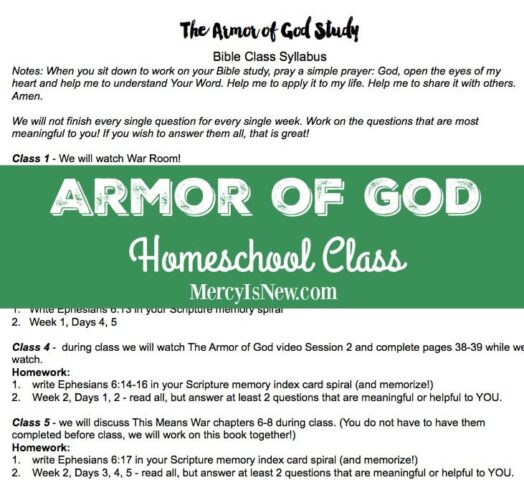 Pinterest Board
I have been collecting ideas for this Armor of God on Pinterest. Here is the board:
Follow His Mercy is New's board Armor of God on Pinterest.
More & Resources
  This is a very cool video that your boys, especially, will love!  
We saw this idea on Pinterest and made it our own! 
Making Scripture Prayer Cards
One of the big things that Priscilla Shirer keeps mentioning to do in this Bible Study is to make PRAYER STRATEGIES. So one day for class, the girls and I found verses that applied to our lives and made pretty cards out of them! (The prayer cards you see pictured here are in the back of the member workbook for you to tear out and use!) We used colored pens
, washi tape
, and gelatos
. Praying God's Word is something I'm passionate about! I loved sharing with these sweet girls about this awesome way to pray!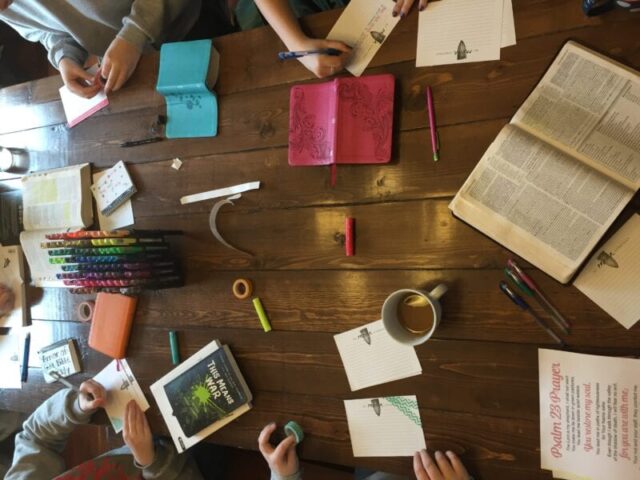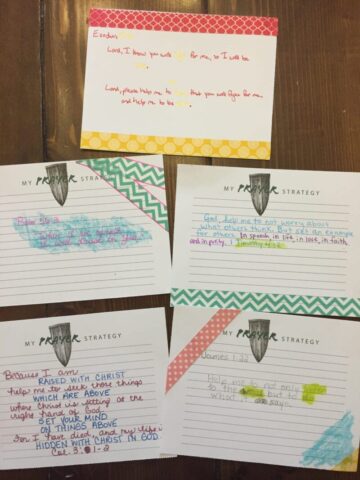 Guard Your Heart
"Above all else, guard your heart, for everything you do flows from it." Proverbs 4:23 We read this verse together in class and discussed how the Armor of God and learning how to do BATTLE with the enemy is practically how we GUARD OUR HEARTS. We talked about various ways to guard our hearts: prayer, reading God's Word, memorizing God's Word, listening to worship music, choosing our friends wisely, attending church, hanging verses around our home – like the cards we made, or pretty pictures and signs too! This sign from Dayspring fits PERFECTLY with our study and I LOVE hanging Scripture around my home!