"Christ distributes courage through community; he dissipates doubts through fellowship. He never deposits all knowledge in one person but distributes pieces of the jigsaw puzzle to many. When you interlock your understanding with mine, and we share our discoveries…when we mix, mingle, confess, and pray, Christ speaks. 
The adhesiveness of the disciples instructs us. They stuck together. Even with ransacked hopes, they clustered in conversant community. They kept 'going over all these things that had happened.' [Luke 24:14] Isn't this a picture of the church — sharing notes, exchanging ideas, mulling over possibilities, lifting spirits? And as they did, Jesus showed up to teach them, proving 'when two or three of you are together because of me, you can be sure that I'll be there.'" [Matt.18:20 MSG]
from Fearless by Max Lucado
I loved this chapter of the book. I'm so thankful to be a part of a small group that I feel exemplifies this message of COMMUNITY.
Do you have community in your life? Are you willing to make yourself vulnerable to grow in Christ-likeness and for the sake of the kingdom?
"They devoted themselves to the apostles' teaching and to fellowship, to the breaking of bread and to prayer.  Everyone was filled with awe at the many wonders and signs performed by the apostles.  All the believers were together and had everything in common.  They sold property and possessions to give to anyone who had need.  Every day they continued to meet together in the temple courts. They broke bread in their homes and ate together with glad and sincere hearts, 47 praising God and enjoying the favor of all the people. And the Lord added to their number daily those who were being saved." Acts 2:42-47
When we meet together, encourage one another, pray for one another and challenge one another, Christ shows up and He distributes courage. I have seen this to be true in my own life! When I hide my fears and my struggles, no one can come alongside and build me up or pray for me. It also puts on a facade that every things ok. Heaven forbid anyone think I've got it all together. LOL!!
But when we feel like others do have it all together, we begin comparing. We become restless. We become fearful of our own future because we aren't content with where God has us today. We can't live in that place and have the peace or joy of Christ alive in us.
We are encouraged to not forsake the assembling of believers…and I know that on my darkest days, when I didn't WANT to see anyone else, those are the times I *needed* the Body more than any other time. We need each other!!
Let us determine to surround ourselves with such a great cloud of witnesses and to join in as a part of that great cloud of witnesses!
Community takes intentionality, time and a giving up of yourself. There is joy in it. We must believe that community is worth it. We must be willing to be vulnerable and authentic, but also give grace when others are vulnerable…loving others and being in community with others isn't a neat and tidy thing. Loving those that are different from you can get messy. Really being there for someone in their deepest pain can be a heavy burden to bear. Yet, we are the Body of Christ. We are called to such as this. Let us grow in genuine love for one another!
"Therefore, since we are surrounded by such a great cloud of witnesses, let us throw off everything that hinders and the sin that so easily entangles. And let us run with perseverancethe race marked out for us, fixing our eyes on Jesus, the pioneer and perfecter of faith. For the joy set before him he endured the cross, scorning its shame, and sat down at the right hand of the throne of God. Consider him who endured such opposition from sinners, so that you will not grow weary and lose heart." Hebrews 12:1-3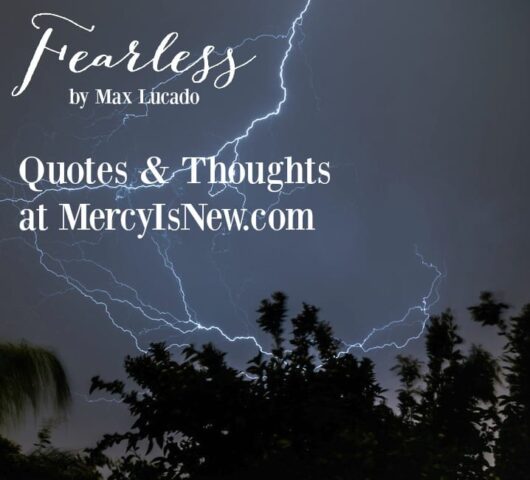 More from Fearless