I grew up on hymns, as I'm sure many of you did. My church now is pretty contemporary and I LOVE our worship. But, sometimes, I do miss some of the hymns!
So, when one of my favorite artists comes out with a gorgeous, quiet, full-of-beautiful-harmonies album of HYMNS, I bought it right away.
Are you familiar with Audrey Assad's music? I have loved all of her albums. Truly some of my favorite music.
I thought I would pop on here and ask WHAT ARE YOUR FAVORITE HYMN LYRICS?
Great is Thy Faithfulness…
Be Thou My Vision…
Be Still, My Soul…
Amazing grace, how sweet the sound…
Free Printable
Remember my hymn cards in the shop? I decided to make 1 of them FREE for this post to help inspire a love for hymns!
This is a hymn that is one of my all time favorites. It serves as a PRAYER as well. Hang this on your mirror, frame it, hang it above your kitchen sink and ask the Lord to be your vision every time you see it.
Click on the graphic or the link below to download your PDF and print it out! (Print and cut out to fit your frame.)
Be Thou My Vision Hymn Card PDF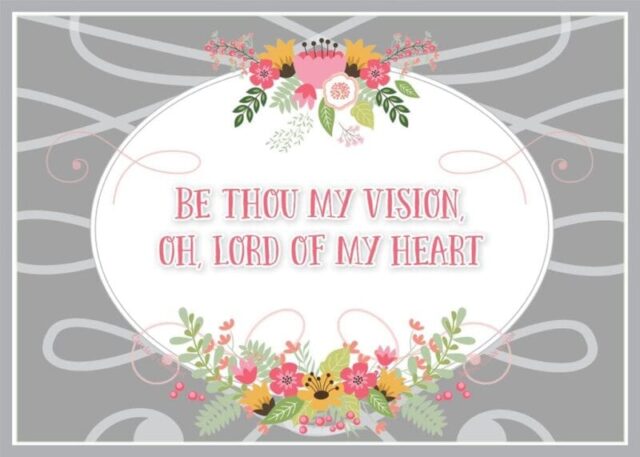 Audrey Assad Music
Listen to these new songs from her album — shouldn't this first song be the theme song for my blog?? LOVE IT!!!!
Give Away
I'm excited to share 1 copy of the Inheritance CD with one of you!!
Please use the rafflecopter to enter this give away!
{Please note: this post is not meant to stir controversy. As a musician and worshiper, I love many kinds of music and often find the words lead me to worship my Father regardless of the style of music that goes with them.}