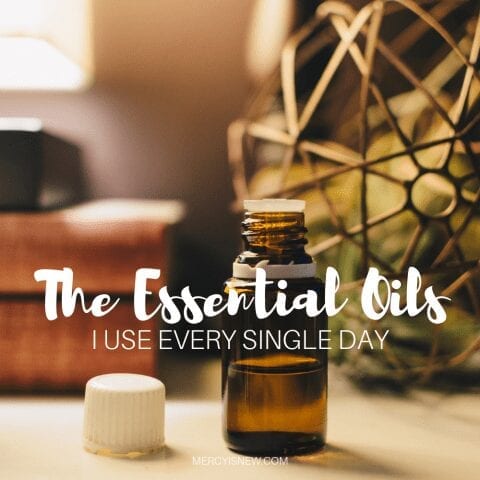 These little bottles of oils are amazing. They have improved my life and my mood so much that I have to share! Have you ever wondered what all the hype was about? What in the world do people even do with these oils? Well, I'm here to tell you how I personally use them each and everyday!
**In this video I discuss a household cleaner and some other items for detoxifying your home. I will be sharing those in a blog post coming next week! A Part 2 for this post! 

Oils in the Morning

Frankincense – there are so many amazing benefits to using frankincense on a regular basis. I mean, they brought it to the baby Jesus, right?? It is promotes & maintains healthy stress levels.
Dragon Time – this is the 2nd type of female/hormone oil that I use. I have been using progessence (explained in my night time oils) for 1 year and 2 months now. It has changed my female life. I had terrible cycles all through my life. The progessence has improved nearly every physical symptom. No more cramps, cycle cut in half, amazing. Well, the Dragon Time has been recently added to my routine to try to help with the extreme moods that come right before my cycle. I've been using it 3 months and it does seem to be helping! I rub 2 drops onto my stomach every morning and then 1 drop on the back of my neck.
Joy – joy is my happy smell. I rub it on my chest and neck every morning and am reminded to CHOOSE JOY and GRATITUDE.
Oils Throughout the Day
Thieves – this is our immunity blend and also happens to smell wonderful. We use it even when we aren't sick because I like to be proactive with my oils and not just reactive! We are rarely sick in our home so I figure it must be helping!
Orange in my Diffuser – orange makes me happy. So I use orange nearly everyday, usually in combination with one other thing. I do orange & lavender, orange & peppermint, orange and ANYTHING is amazing. 🙂 I have my diffuser running all day in our main living area.
Grapefruit – I love grapefruit in my water! Anything citrus is usually my favorite.
Allergy blend – LLP is the allergy bomb. Actually we use it for ANY congestion and sniffles, ear pain, etc.
Focus Blend for my son – I mix Vetiver and Cedarwood to promote good focus during our homeschool time.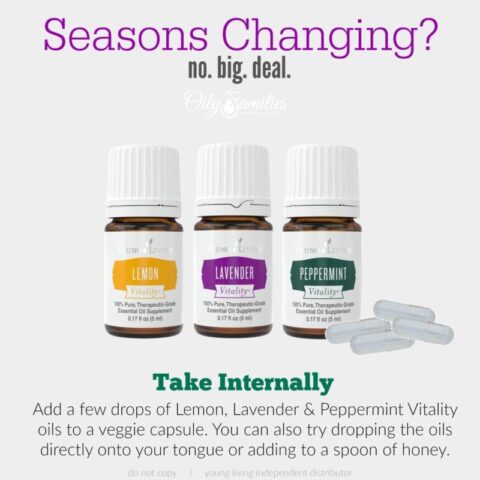 Oils Before Bed
Progessence – The progessence is what I mentioned above that has helped my cycles so much. Pretty much the miracle oil. 😉 I put 2 drops on the inside of each ankle at night before bed.
Cedarwood – this is an oil that can be used for several things, but I use it to help me sleep! I have it in a roller bottle mixed with Lavender and I roll it on the bottoms of my feet.
Lavender – the calming, swiss army knife of oils! If you don't know what oil to use in a certain instance, use lavender. I use it at night to help me get good rest.
Stress Away – I put this in my diffuser at night because my husband doesn't care for the smell of Cedarwood in the diffuser. 🙂 Stress away has a vanilla-y type smell.
Resources I Use with My Oils
Carrier Oil – I love using ROLLER BOTTLES on my oils because I can add my own blends and also add a carrier oil to DILUTE the oil and make it last longer! It also goes on much easier with the roller top. This fractionated coconut oil is what I've been using as my carrier oil for the last year.
Roller Bottles – The BEST roller bottle tops are the stainless ones from Young Living that fit directly onto a YL bottle. The roller ball is stainless and it so much smoother than the plastic or anything else I've found. You can get a package of 10 for 9.95 I believe. (You get at least one in your starter kit!) I have ordered these pretty roller bottles as gifts for Christmas! They are very pretty.
Diffusers – I have multiple Young Living diffusers in my home and love them. I also have a few from Amazon that have worked really well too! I have this one, which has lasted more than a year so far. We had this one and loved it as well!  And  yet one more we've had for over a year and it's still going strong! (WHY YES, I love diffusers and have them in every bedroom and our living areas!! I believe in the power of aromatherapy that much!)
Starter Kit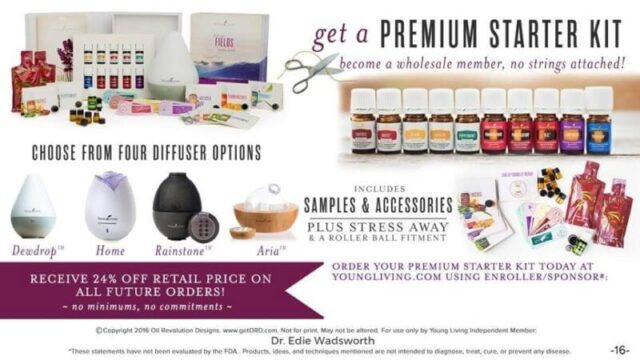 The starter kit is *the* best deal if you want to get more than one oil! You get 11 amazing oils, a DIFFUSER, some samples, a roller tops, some small sample bottles you can share with friends…it's amazing.
Go here if you'd like to sign up and join our team! Our team is blessed to have Dr. Edie Wadsworth as our leader, it has been so fascinating to learn about oils from a doctor's perspective. When you join our team, you get added to her facebook group just for our team members. We have lots of classes, videos, you can ask questions, etc.
Stay tuned for another post coming next week where I talk more about using essential oils and a few simple products to DETOXIFY your home!