Can I just say how much I LOVE Five-in-a-Row curriculum! I am SO thankful that God allowed me to find this awesome, literature based, gentle, full-of-fun curriculum while my kids are young! What a blessing!
Here are some pictures of our first day with the Bee Tree! First of all we read the book, by Patricia Polacco. The book looked a little longer and I was a bit worried, but the girls enjoyed the book – and so did I! I had never read this story before!
~ Here is our table as it was set up this morning. ~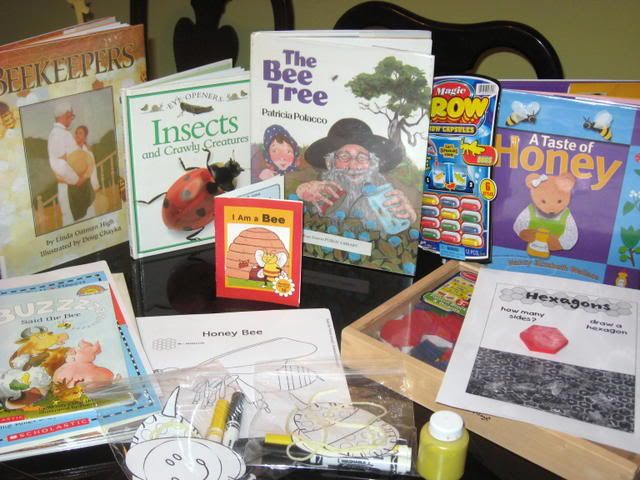 Today we learned that our story took place in Michigan, so we read a little about this state, pointed out the 5 great lakes and colored a map of Michigan. We also placed our story disk for The Bee Tree on Michigan.
Then we colored a picture of a honeybee. We also started new vocabulary words for the first time. I printed off the pictures from HSS that correlate with the vocabulary words in the FIAR manual and pasted them on index cards. I wrote the definitions on the back and the word and picture on the front. I had them laminated as well. Today, we went over each word and then I gave each girl a few words to be listening for in the story. They did a good job with this! And we have also used these words in our conversations a few times later on in the day! The girls already seem to have learned a few of them…so that is encouraging!
We also had our Tea-and-Craft time today! To go along with the Bee Tree theme, we had biscuits with honey and butter! I also made some iced tea to drink for us. The girls asked to invite Nana, so we had a guest today! I will post pictures of our tea time in a separate post!
Valerie and I had also found some of those little GROW capsules in the Target Dollar bins, and one of them had insects in it! So, I decided to let the kids do these today. Well, be forewarned, they don't just turn into insects FAST or anything…it took awhile, a long while! The kids actually got pretty impatient and just left them on the table in the water. But when they came back they had quite a surprise! We had all kinds of colorful insects to play with!