No, I didn't look at the calendar wrong…it's not New Year's Eve…just the end of another school year for us! Now, we do school year round, so the end and the beginning sometimes run together, but I wanted to take a few minutes to think about the past year and all the growing and learning my sweet children have done. This might get a bit long, but I wanted to take some time to review our school year.
Sweet Hannah…my oldest, my most stubborn.
Hannah is a true oldest child. She seems to excel in academics and this year has been no different. But, aside from the excelling, what I love about schooling with Hannah is her love for learning new things. She is constantly telling me about new ideas she has for units for us to do! (David makes fun of me saying I "unitize" everything…"Oh this would be a good unit!") Well, now Hannah does this as well! "Mommy, we should learn about frogs next week! Or what about squirrels?" I love her enthusiasm!
Hannah is also very neat and orderly. She takes her time coloring and LOVES arts and crafts. I personally think she happens to have maybe a bit of talent in the drawing department,but I don't want to brag.
I love seeing her drawings! This girl would sit at our school table and use markers, glue, stencils, stickers and paint ALL DAY LONG if I would let her! Because Hannah loves crafts so, something new we have done this year has been a HUGE hit – lapbooks!
Hannah continues to do a great job with reading. From what I can tell with online tests and such, she is reading on about a 3rd grade level. In the last few months she even picked up her first "real" chapter book to read…not for me to read to her, but for her to read by herself – Charlotte's Web!
Hannah and mommy on her birthday!
One of Hannah's drawings from this past year.
Emily, sweet Emily.
My middle girl has made a lot of progress in the last year as well! Like Hannah, she too is so eager to learn new things! Emily especially loves learning new things about animals. She gets very excited when we get to examine and study creatures – like our caterpillars and our crickets from this past year. She is the nurturing one who checks on the bugs and/or animals several times a day to make sure they have what they need.
Emily has also made a lot of progress in reading this year! I waivered a little bit in my decision to not use a formal phonics program towards the beginning of this year, because I found myself wondering if it would have been good for her. However, we took a few months off of sounding out words – as she was getting frustrated – and now (within the last 2 months) she has just taken off! She is reading the BOB books we have and loving it! She is doing well with our Queens Language Lessons and sounding out the words in that book as well. She isn't getting nearly as frustrated as she was back 6 or 8 months ago.
Emily also enjoys the lapbooks! Emily doesn't enjoy taking her time and doing nice, neat jobs on coloring but she does enjoy the finished product. She isn't worried about what the coloring or writing looks like, but she loves having her lapbook with all the little books and things in it to show daddy and Nana. She really does learn a lot of the info this way!
Emily got a new bike this year and has shown us that she isn't very timid on it! She zooms down the street FAST, and thus made David and I feel like we needed to get the girls helmets.
Hannah has never quite been this fast on the bike, so this was something new for us. She loves riding her bike!
Emily with her "pet" caterpillar!
Both girls love painting!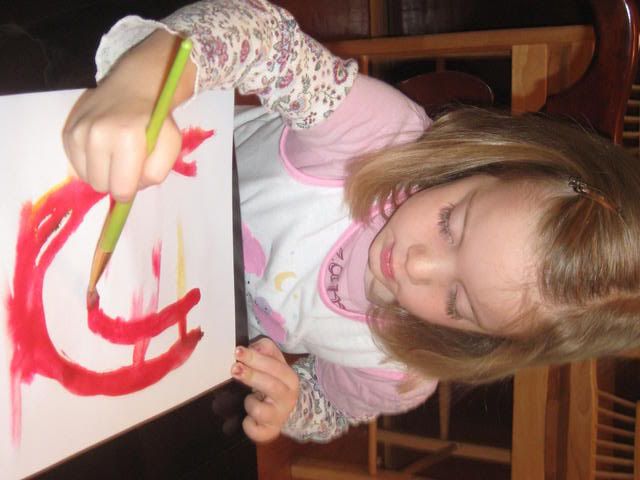 Sweet baby boy, Caleb! Last but definitely not least, Caleb has had an exciting year as well! Towards the beginning of our school year I found myself getting very frustrated with Caleb because he would cry on the floor whenever I sat down to read books with the girls. And well, a lot of our schooling is reading good books together! Now, I am happy to say that almost all the time (with a very few exceptions) Caleb happily sits on the couch with us and reads along with us! He will listen to me read as long as the girls will!
Caleb loves the songs I play each morning for school! Don't be surprised if you hear him rattling off some of the books of the Bible, because he can *almost* say them like the girls can.
He also sings our spanish songs, can count to 10 in spanish and knows what cat, dog, baby and several of the colors are in spanish! Little ones are such sponges at this stage, so I'm excited that he is willing to participate in our morning routine…he is learning too! He also recites part or all of several of our memory verses with us!
Caleb also loves playing outside and is very interested in the different things we have planted this year. He gets excited about the bugs like Emily and also gets excited about the plants growing. When I go outside I will often hear, "mommy! Look how tall our garden is growing!" So cute!
All 3 of the kids love helping in the kitchen, too!
Caleb doing jellly bean math with us!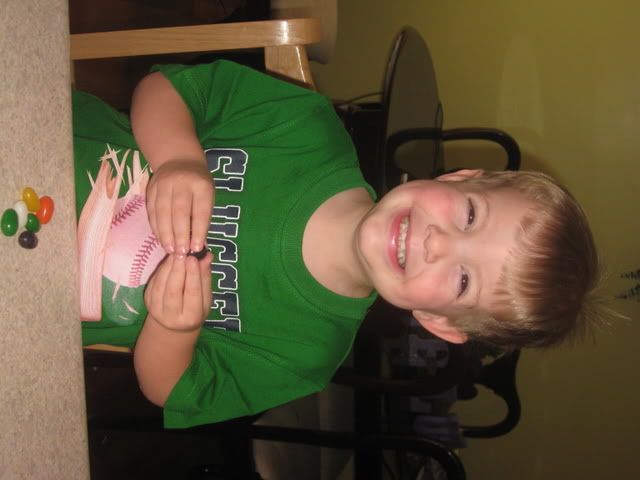 Another wonderful year of homeschooling for us. Though I get frustrated and don't feel like I am the most patient mommy in the world, I wouldn't trade this time in our lives for anything! I love hearing my kids reciting God's word. I love hearing my children learning to read and sounding out those words. I love to hear my kids singing praises to Jesus. I love to hear my kids get excited about turtles and telling Nana all about them. I love to see my kids drawings and how proud they are to show daddy their artwork. I love spending our mornings snuggled on the couch reading from God's word and from wonderful picture books. I feel so blessed that I can homeschool my children!