Yes, you read that right! So…are there any fruitcake lovers out there? I am not. However, my husband loves these fruitcake cookies that his grandmother used to make. The recipe is pretty labor intensive and is a bit expensive to make…but this year, he decided to go for it! So, Peggy, this post is just for you! I know you will be so proud of your son's efforts, hee hee!
First of all, the recipe
Fruitcake Cookies
1 stick butter
1 1/2 cups brown sugar
4 eggs
1 t EACH of cinnamon, cloves, all spice, nutmeg
3 1/2 cups flour
6 cups chopped pecans
2 pounds cherries (I can't think of what these types of fruit are called, but they are in those clear plastic containers and in that sugary syrupy stuff. David got 1/2 green cherries and the other half red.)
2 pounds pineapple
1 pound dark raisins
1 pound light raisins
1 cup juice (or water or milk or bourbon)
*Cut fruit into small pieces. Chop or break pecans.
*Dredge fruit in 1/2 cup flour. (not included in above flour.)
*Mix dry ingredients and sift once.
*Cream butter and sugar. Add eggs one at a time.
*Add juice or liquid.
*Add dry ingredients and then fruit, mix well.
*It will not look like what you think it should, but like fruit barely coated with batter. That's how it should look.
*Drop by spoonfuls onto cookie sheet, ungreased.
*Bake at 325 degrees for 25-30 minutes, til lightly browned.
******************************************************************
So, there you have it! Now, the chopping of alllllll that fruit is what took the longest. It's hard to tell from this picture, but this is a rather large bowl full of the fruit David chopped! (and no, he didn't double the recipe!)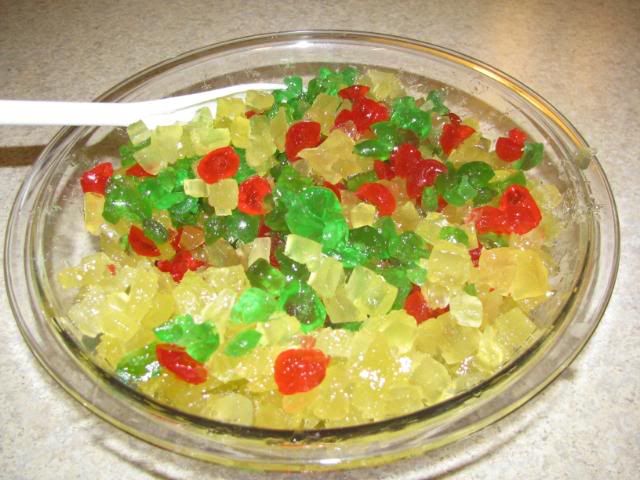 Here are all the raisins and nuts that this recipe calls for as well!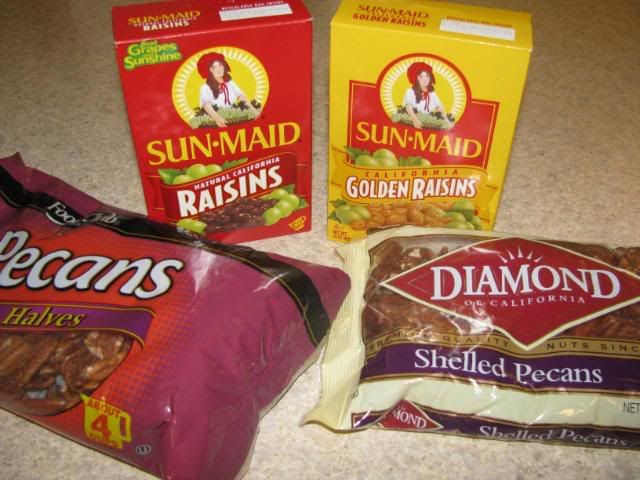 All the nuts chopped up in the food processor.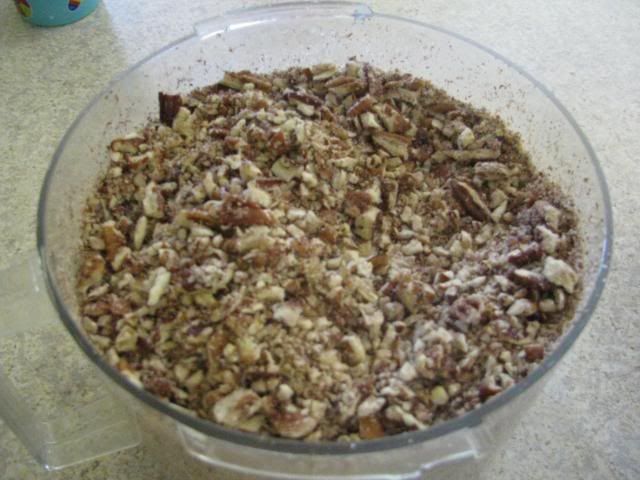 David decided that a spoon was just not going to mix this up very well, so he resorted to using his hands.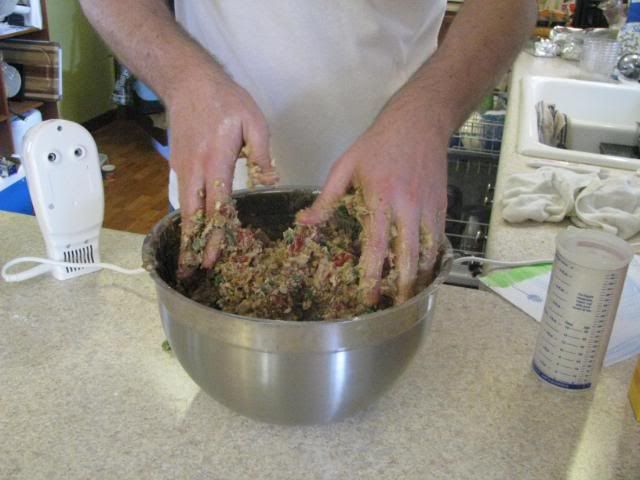 And finally, the cookie. The fruitcake cookie.
So, if you think you'd like to try these cookies, please let me know! And, for David's family, unfortunately luckily, you will be getting to taste (or look at) these tonight! Don't worry, I'm also bringing the pretzel treats.