Now that December is half over, I thought I'd share some of our favorite things that we have been doing/using from around our home this year! In addition to my favorite "things" I have to include a favorite picture of my favorite "people." Here is one of my favorite pics of the kids from this year!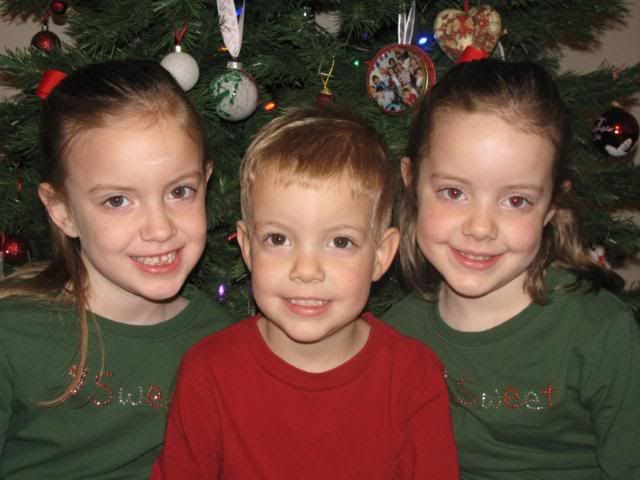 My Favorite Christmas decorations
I love to decorate! It was hard to narrow this down to a few favorites, but I did! My absolute favorite Christmas item to pull out are the nativities! Ok, so I don't have room to list anything other than nativities…but those are my favorite anyway.
This first nativity is the Fontanini set. My dear friend, Katie, began giving us one piece each year the year that David and I got married. What a wonderful gift!
This next nativity was another wedding gift! A friend from our old church, Monica, painted these ceramic nativity figures. She did such a beautiful job! There are also camels, wisemen and other characters that you don't see in this picture. These nativities are actually set up with the Fontanini stable.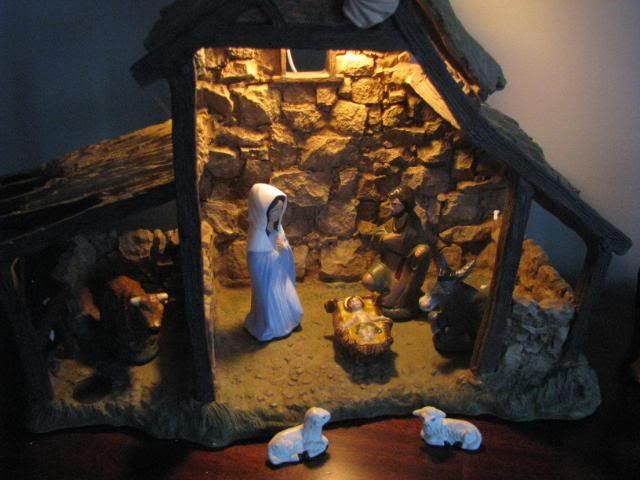 My first kid-friendly nativity set. I found this cloth "stuffed animal-like" set at a Christian book store years ago. I love it!
This set, if you remember, I was sent in the mail to review for the TOS crew. It is made by One2Believe and my kids love playing with this one!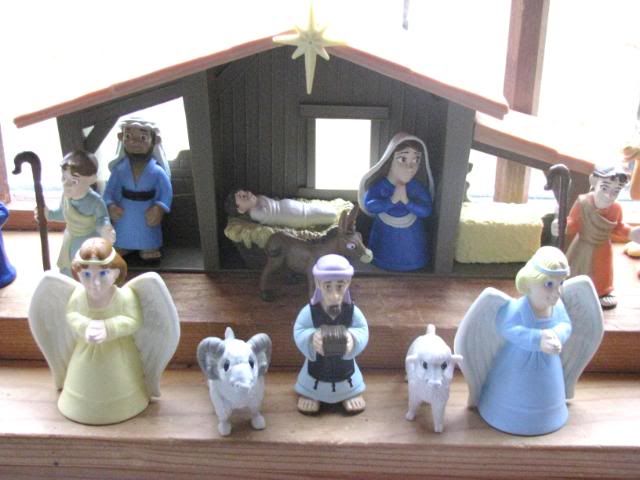 We have another "stuffed animal-like" one that my friend Katie also gave my kids one year for Christmas!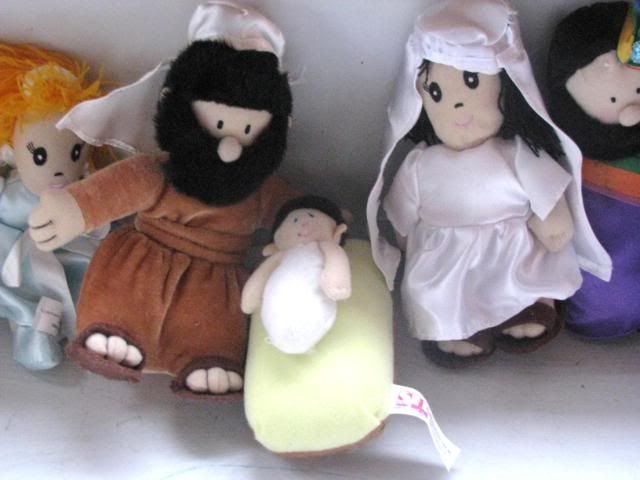 And this year, we have a new set…this is a felt board nativity set! The kids have really enjoyed playing with these felt pieces! I found this set at a local Christian book store. There are actually quite a few pieces to this set, they won't all fit on our small board at once.
My favorite Christmas resources to use with my kids
I mentioned in my advent post that I have heard lots of moms recommending Jotham's Journey. Well, now I can give you a personal recommendation…we are LOVING this story! It really does keep you wanting to read more, as it is full of suspense. We are also learning alot about the prophesies of our Messiah as well! (also remember there are 2 other stories in this series for advent, we will hopefully read one of the others next year – one about Bartholomew and the other about Tabitha – both characters from the Jotham book!)
The other "big" advent thing that we are doing is our Jesse Tree. I love, love, love this tradition and idea!! These ornaments I ordered from a felt kit (if you are interested in the kit, email me, they don't have a website but I have their email address.) You can also see them here on Elizabeth Foss's unit study blog.
We also hang a laminated paper ornament on our little tree in the school room. Both these and the felt ornaments go with a Jesse Tree devotion we do each day, as we light our advent wreath candle.
And our advent calendar, the kids add one piece to the nativity scene each day counting down til Christmas! (I got this from cbd a few years ago)
My favorite Christmas picture books
I have already mentioned Mortimer's Christmas Manger a few times, but will list it here as a new favorite!
And for preschool and early elementary kids, God Gave us Christmas
My favorite Christmas music
This one is easy this year! I have 2 definite favorites and my wonderful hubby got me both cd's for my birthday this year!
Casting Crowns ~ Peace on Earth
Travis Cottrell ~ Ring the Bells (oh and my copy has a little signature on those snow covered trees! Remember when he came to my church, just for my birthday, remember? HA)
My favorite Christmas foods
The now famous Pretzel Treats! These have become a favorite because they are SO easy and SO festive!! Here are the simple instructions just in case you haven't made these fabulouso treats yet!
Another simple recipe that is festive is an easy punch recipe I came across years ago! Here is part of a picture of the punch from a baby shower I gave.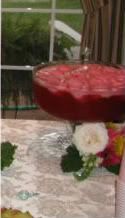 1 2-liter of Sprite
1 jug of Hawaaiian punch
rasberry sherbet on top!
My favorite Christmas tree ornaments
This was another category that was hard to narrow down! Here are a few of my favorite ornaments!
The first one is a pretty stained glass window ornament with my name engraved on it. I am pretty sure I have had this since I was little. If I remember correctly (mom, correct me if I'm wrong) the lady that you named me after bought me this ornament.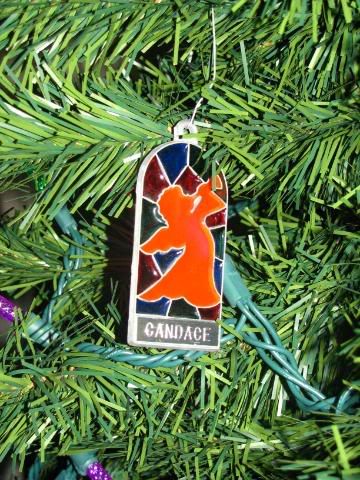 Alot of my favorite ornaments have come from the past few years since I have become a mom! Hannah made this one in a class she was in last year…her handprint in white paint was used to make the snowmen, one for each person in our family!
Another favorite is any and every handprint ornament! Love things made from my kids handprints! This one happens to be Emily's handprint from a few years ago…
This ornament was one I made as a kindergarten teacher before I had my own kids. The picture in it is me with my first kindergarten class of my own! There are some very special kiddos in this picture! (who are now in middle school! Yikes!)
I also love all the silver ornaments around tree – some saying Baby's First Christmas, some saying Our First Christmas, some with the year on them. This is one that Hannah received as a baby for her 1st Christmas.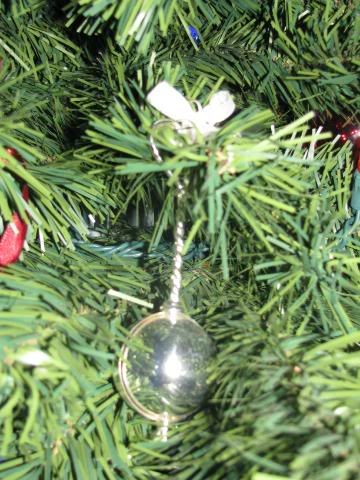 And one last homemade favorite…the one we made just last week! These turned out SO pretty, I'm still quite amazed. So, I think these will definitely become one of my favorites!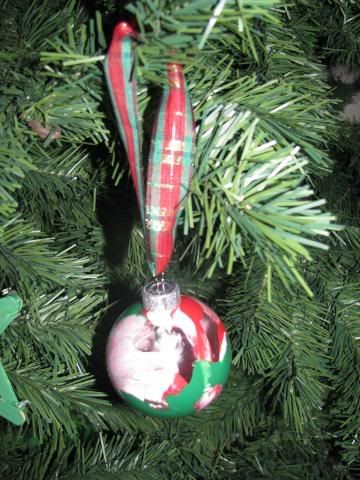 ~ and these are a few of my favorite things ~