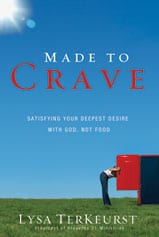 If you are watching what you eat, on a diet or striving to live a healthier lifestyle you are probably very familiar with the term "portion control." It isn't the most feel-good phrase, is it?ha!
As I am reading
Made to Crave
, I am finding HOPE and ENCOURAGEMENT from the word "portion" and I will probably never look at that phrase, portion control, the same. Thank goodness, right?
Let me give you a few Scripture verses to show you what I mean.
"Whom have I in heaven but You?
And earth has nothing I desire besides You.
My flesh and my heart may fail,
but God is the strength of my heart
and my portion forever."
Psalm 73:73:25-26
This verse from Psalm 73 could most definitely be my life verse. My flesh and my heart fail SO OFTEN…but GOD is my strength! That has been just such a powerful lesson and huge blessing in my life to realize that I DON'T HAVE TO DO IT ALL…HE is my strength!! I don't have to be strong because in Christ, my weakness shows His strength. Praise God!!
"Lord, you have assigned me my portion and my cup;
you have made my lot secured."
Psalm 16:5
To me, this verse tells me that everything in my life has been "assigned" by God…I don't have to worry that He isn't aware, He has assigned me my portion! He has given me all I need for this life in Himself…He has a plan perfect for my life, I just need to listen to Him and follow. He has given me my SECURITY!!
"You are my portion, O Lord…"
Psalm 119:57
This verse has become one of those short, breath prayers that I cling to throughout my day. I am constantly reminding myself that He is my portion – NOTHING ELSE will satisfy – not food, not people, not stuff, etc…I am so thankful that HE ALONE is my portion and that He is teaching me that nothing else on earth will satisfy me. As I pray these words and tell the Lord that He is my portion, I sense His pleasure.
"Because of the Lord's great love we are not consumed,
for his compassions never fail.
They are new every morning;
great is your faithfulness.
I say to myself, 'the Lord is my portion;
therefore I will wait for him."
Lamentations 3:22-23
This is my all time favorite verse…in fact, I named my blog after this passage. 🙂 And my favorite hymn, Great is Thy Faithfulness, comes from this passage. And now, I have an even greater appreciation for these words! I had never focused in on the last part of this verse before, always looking at the "new mercies" part. But, now I see that these go together hand in hand. The LORD is my portion…and I need not feel guilt or condemnation over yesterday's choices and battles because His mercies are new EVERY MORNING. And, because HE is my portion, I will WAIT ON HIM instead of looking elsewhere for my joy. Instead of waiting on the "next best thing" to happen in life, I already have THE best thing to fill me up!!
How do you view the word "portion?" I'd love to hear your thoughts!