A few years ago I shared pictures of our school room and it's time for an update! We recently inherited some "new to us" furniture and so I rearranged, decluttered, and did lots of new things to our school room!
**At the bottom of this post I will share a few "dilemmas" I have with our new set-up. Feel free to share suggestions if you see any ideas from the pictures! 
This great room that is our school room was added on to this home in the late 90's. We bought this home in 2004, so when we bought the home, this room was a selling point! It is so nice and big, lots of windows and is an "extra" room – we have another living room where our tv is located. There were also those gray shelves to the left built into this room.
This room started out as our playroom. Hannah was nearly 2yrs and Emily was nearly 1yr when we bought this house. As the kids grew older and we started homeschooling, it became our school room. Now it still holds some toys (legos, lincoln logs, etc.) but it is mainly used for homeschooling and general kids playing.
On the far shelves to the left (picture below) are some reference books, play dough, legos, paper, markers, paper, coloring books, lots of stuff that gets used on a regular basis.
The hutch right next to our built in shelves on this wall (above picture) was made by my grandpa!! It has been in my brother's house for years now, but they are moving to Guatemala and getting rid of EVERYTHING. So, I needed more shelving in my school room and this fits perfectly in here!!
On the hutch I have more craft supplies -paint, paint brushes, etc. On the bottom shelf at the children's reach are their 3 blue and green baskets. Each child has a basket. In those baskets are all the books/notebooks/workbooks needed for their daily school work!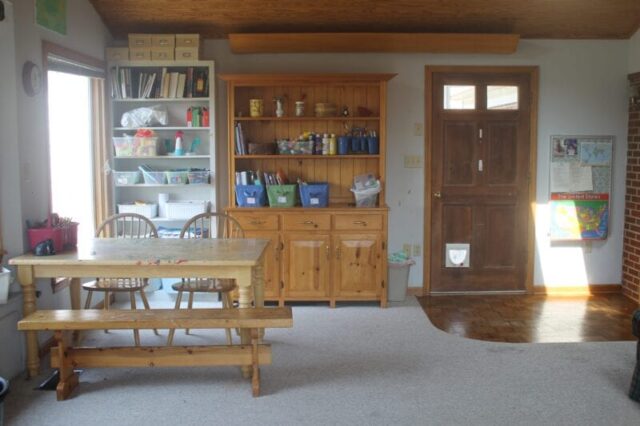 In the closed cabinets of the hutch are lots more craft supplies – larger paper, yarn, stickers, stamps, etc.
This next picture (above) is the new-to-us couch that we inherited from my parents!  It is in much better shape than our old couch and is SO comfortable! I lay down while I'm reading aloud and could fall asleep!! 🙂 Next to the couch is a bookshelf that holds all my books that are sort of arranged by curriculum/subject. One shelfAmerican History books we are using this year, FIAR books, Christmas books, Holiday books, etc.
Above the couch you see the window into our kitchen.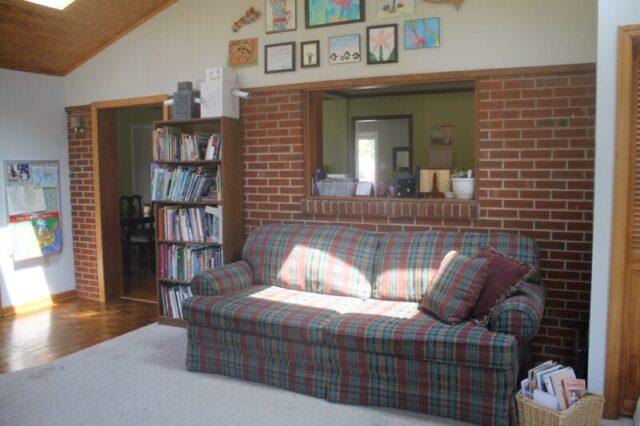 This is a closer shot of the wall above the couch!! I just did this recently and LOVE it! I always felt this was wasted wall space because I couldn't put shelves or anything useful up there. But, I finally had the grand idea to put our kids artwork up there!! I LOVE IT!! One of my favorite walls in the whole house! 🙂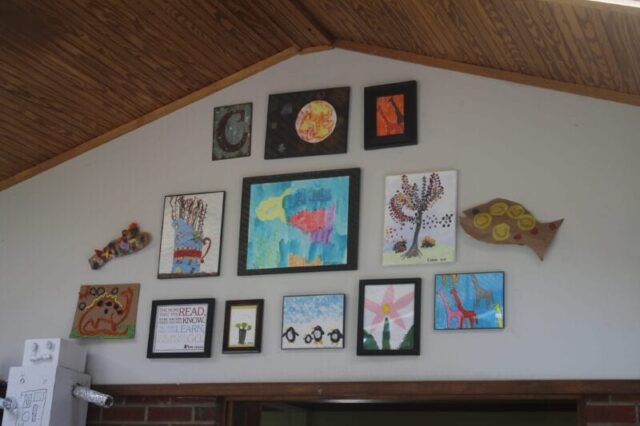 This is the other side of the room.  There is a glass door to our back porch, another book shelf, computer desk and our new, bigger white board!
This book shelf contains biographies, the kids portfolios from each year, scrapbooks, chapter books, etc.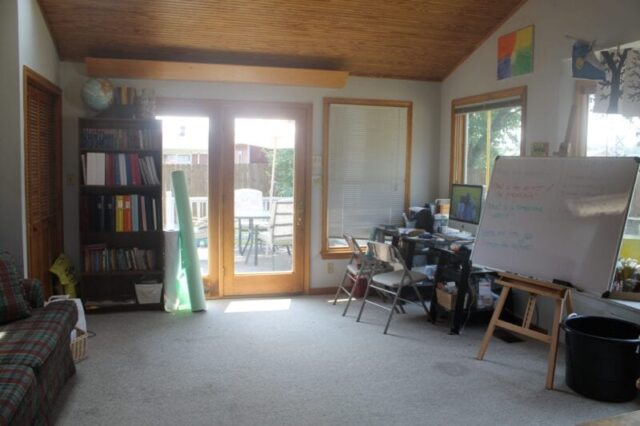 And this last picture is a look at the room as you come in from the dining/kitchen area. This is the table where our kids do all of their book/writing work. The new white board (our other one was half this size) has a list for the girls on it of their daily work, and the other half I use for explaining grammar lesson. Above the big, center window is a thin rope hanging that holds current art work the kids have done.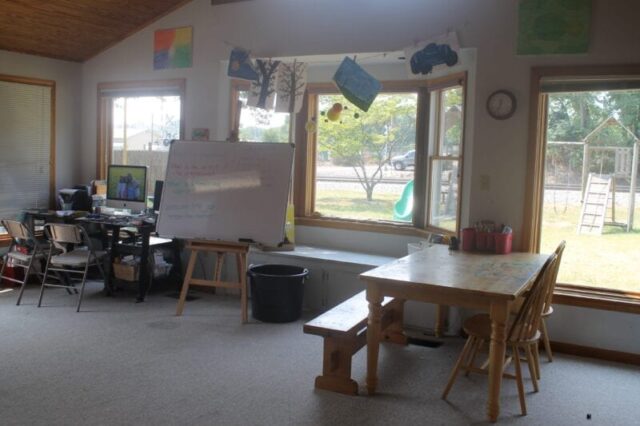 So, there you have it! 🙂 Our newly updated school room!!
**2 dilemmas I now have:
1. no wall space to hang my maps!! Boo!! I had the big, laminated maps that we really do use quite often! 
2. No place for my timeline! (look back at that old school room link at the top of this post to see our timeline.) 
Any suggestions?