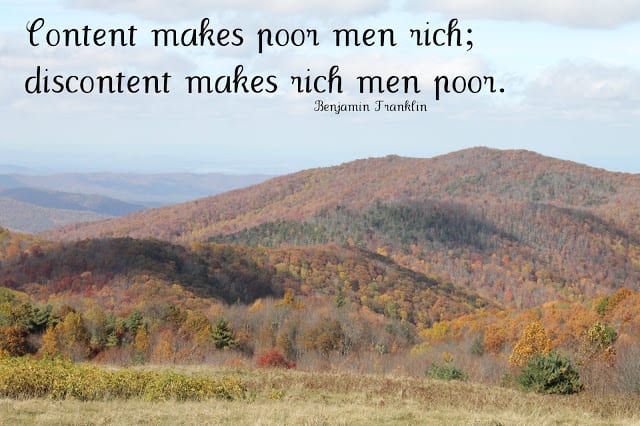 "People tend to think their circumstances determine the quality of their lives. So they pour their energy into trying to control those situations. They feel happy when things are going well, and sad or frustrated when things don't turn out as they'd hoped. They rarely question this correlation between their circumstances and feelings. Yet it is possible to be content in any and every situation.

Put more energy into trusting Me and enjoying My Presence. Don't let your well-being depend on your circumstances. Instead, connect your joy to My precious promises." Jesus Calling
I have shared many times that this devotional is my absolute favorite. God always speaks to me, right where I'm at, each and every morning through this book. Yesterday as I read this portion on contentment, I knew I had to share it with you.
I never set out to write a series on contentment. I felt impressed by the Lord to share about my struggles…in an effort to find accountability, prayer and to be transparent. What I noticed was that each day God was still speaking to me about this topic…in random ways – random to me, not to Him.
So, as the Lord leads, I will continue sharing how God is speaking to my heart. I pray it encourages someone else as well.
The truth that this day's devotion shares is truly amazing if we take the time to think about it.
What if we focused our energy into trusting the Lord – seeking Him – learning of Him – loving Him…instead of focusing our energy on trying to change our circumstance – fix people – get our to-do list done. I want to fix my eyes (my energy, my heart) on HIM and not on what frustrations surround me. 
Will you join me?