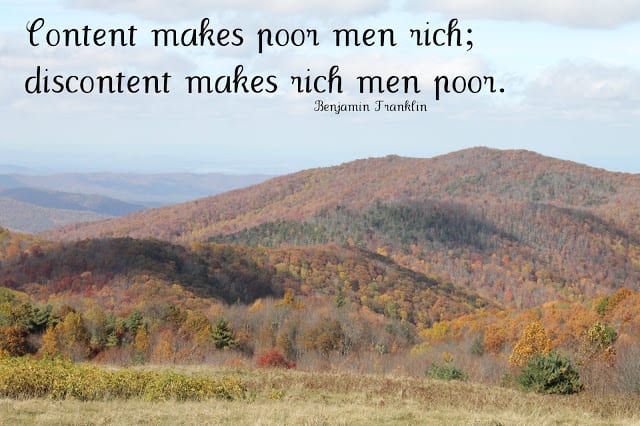 I've been sharing with you how God has been working on my heart regarding contentment. I am still struggling with this concept.
Deep down in my heart I feel like I am content. I am so blessed. I'm so thankful. God has given us all we need and more. I can look around me and literally count the multitude of blessings.
So, if I'm thankful for what I have, why do I keep wanting more? Why do I keep buying more? Is it habit? Is it something deep down I haven't discovered? Is it living in America where materialism is ingrained in us?
I continue to count my blessings. I continue to be changed by the concept "all is grace" that I read in One Thousand Gifts
. Learning how to be thankful for it all has changed my perspective. Changed me.  I continue to be reminded of God's love for me just by simply looking around my life.
Thanking God and continuing to ask Him to change me…
a refuge and strength
reading the gospels for Bible in 90 days
slow, cold days to curl up in blankets, read good books and drink warm coffee
a day of scrapbooking – moreso the conversation that happens there – I needed that!!
our small group movie night (we watched October Baby
 – oh my, have you seen it? If not, you should! And make sure you have some tissues!)
seeing God at work and speaking to others
sweet words from friends
laughter – so precious, especially when it's needed!!
my "new" kitchen! 🙂 I'm loving the new color & trim & light switches & plates and all of it! 🙂 I'm going to try and do a post on my plate wall soon!
our furry family members. we love them! so amazing how much joy they bring to a home!
answered prayers
God's faithfulness
peace in the midst of chaos
#3339 – 3351