I received a very informative DVD entitled, Understanding Child Brain Development, from a company called Family Hope Center. I hope that any of you reading this post with any connections whatsoever to children with special needs will take a closer look!
The Family Hope Center is dedicated to helping families with special needs children. They specializes in training and helping parents to help their children with special needs. The Family Hope Center believes that as parents, we are uniquely qualified to provide treatment for our children. We know them best! This center uses nutrition, oxygen, consistent focus, and developing sensory pathways to improve a child's learning success.
Here are a few things that are unique about the Family Hope Center and the treatment they can provide:
treatment for source problems, not symptoms
focus on the child's abilities, not their disabilities
viewing the child as a WHOLE person, not just parts here and there
assessment for the root of the problem
they truly believe they can help – they give HOPE
The DVD that we received for review is presented by Matthew and Carol Newell, the directors of Family Hope Center. (You can see on this page the rest of their team!) The introduction is also by Andrew Pudewa, who you might be familiar with, from IEW.
This DVD seeks to teach parents about children's brain development, the different stages of how they develop, and how/why they develop at different rates. Their desire, through this DVD and their center, is to give HOPE to parents of children with any special need.
You will learn about brain development at various ages: infancy up through 36 months. You will learn about various options for finding and treating the SOURCE of the problems, not just the symptoms. I love this aspect of the Family Hope Center because it seems that so often in the medical world today there is a lot of giving treating of symptoms. For instance, one thing they focus on with autistic children is healing the gut, organs and brain while also addressing the levels of toxicity in the child.
The Family Hope Center also offers their program called The Thriving Child, which is what they call a "core program that makes you a better teacher and your child a better, more effective learner."  This program is a much more intensive program with 7 DVDS of 16 hours of instruction.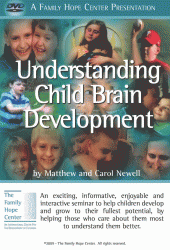 I really believe that the Family Hope Center can help a lot of families! If you are one of them needing help in this area, I hope you will check them out! That said, I do not have a special needs child myself and am definitely NOT a medical professional. So, if any of their ideas or treatment plans are an option for you, I would always recommend researching for yourself and your child! I admit that before this DVD and reading from their website, I had not done a lot of research on brain development in children.
To order the DVD, please call 610-397-1737 or you can order Understanding Child Brain Development from IEW. Here is the direct link to the IEW site for purchase.  The cost is $19.
If you'd like to read what other families are saying about this DVD, please check out the TOS crew blog!