I recently received a DVD entitled Not of This World by Lisa Chan. You may remember the other DVDs I've written about from her and the True Beauty Films. Lisa is the wife to Francis Chan who also happens to be one of my favorite authors! I love these DVDs that Lisa has done and am excited to share this one with you also!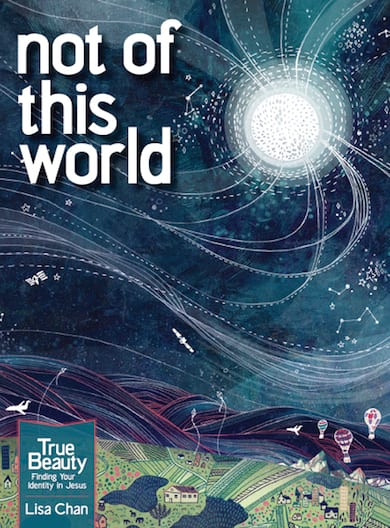 In this DVD, Lisa tackles something that I think all of us, as believers, need to wrestle with from time to time.
Where is your treasure?
I think this is a tough thing to answer. There are so many things in this world that distract us from God and His purposes in our lives. There are so many things right.here.in.front.of.us. It's so hard to fix our eyes on Jesus at times, isn't it?
But, in Matthew 6:21, the Bible tells us that "where your treasure is, there your heart will be also." 
What is my heart focused on? Do I love things more than God? Do I love the things of this world more than the things of God? These are questions we all have to answer for ourselves. This DVD will help you to focus your heart and help you to allow God to search your heart.
I love the encouragement I receive from the True Beauty films. I, personally, think it's hard to know for certain that I am treasuring God above all else in this world. I strive so hard day in and day out for certain things ~ in my home, in my work, in my family ~ am I striving for an eternal treasure? Am I seeking God above it all? Am I loving the world or the things of this world? Look at the things in your life that you cling tightest to, are they eternal or worldly?
I hope you will take some time to ask yourself these questions. Dig deep into the places in your heart where no one can see except God. Let God search your heart and pray that God would be your treasure. He is jealous for you! He is the gift!
Each of the DVDs in this series has been approximately 20 minutes long and is $14.99.