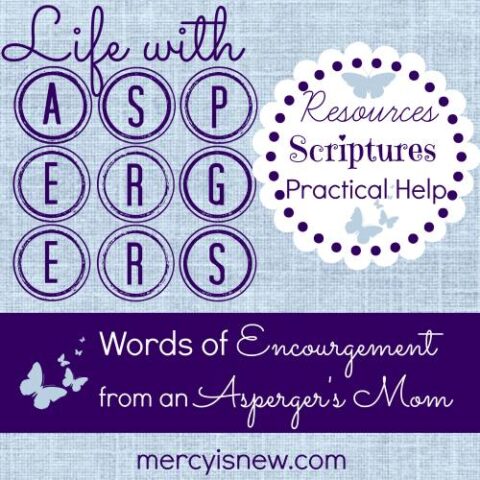 As we finish up this series, I am praying for each of you that struggles with a child that has Asperger's, or any other special difference as well.
There is a huge lesson that I have learned from my nephew and I want to share it with you today.
Adults, please be gracious in your response to children that you don't know. You can't always see with your eyes what may be going on with that child. You can't always see Asperger's. You can't always see, by looking at a child, that his parents are getting a divorce. You can't always know, from looking at someone, the huge battle that is raging in their lives. You just don't know.
Maybe you're at a little league game, a child strikes out and throws a huge fit. You don't realize that child has Asperger's, so you rant about how selfish and awful that child's behavior is. Please, please, consider your words before you speak. 
Maybe your children are in a choir program at church and there is one certain child who can't stay in his assigned spot and is driving the adult helpers crazy. Maybe he complains a little too loudly when he doesn't receive a prize. Adult helpers, remind yourself that you don't always know what is going on with each child. Please consider that there may something else going on that you don't know about.
Now, in closing, I have a few things that have helped my SIL, Valerie.
Educate Others ~ thus this series! 🙂
Honor Limitations – Valerie shares that we should not lower our expectations, but choose our battles wisely. Great advice for any parent, yes? She shares that she still teaches Colin about self-control and obedience, but there are times when she has to let go of all that and extend grace. He has legitimate limitations due to Asperger's, but that is not an excuse.
Realize that what works for one may not work for your child.
Don't yell – learning what actually makes things worse – yelling can be one of them
Realize meltdowns are in response to over-stimulation
Teaching them things that you might not have to instruct other children ~ like how to give a hug, saying I love you.
Reminding yourself that God created your child just the way he is for a specific purpose that only that child can fulfill. Speak that truth to your child also!
In closing, Valerie and I want to thank you for joining our series this week! Oh, and it's not really over!! 2 more moms are going to be sharing in this space next week from their experience with Asperger's. It is my prayer and hope that you have been encouraged!
Valerie wanted me to let you know that if you have questions for her regarding this series or anything she has shared, feel free to leave a comment here OR if you wish to do so privately, you can use my "contact me" form and I will get the message to her. 🙂
Life with Asperger's Series Posts:
**note these links will not work until each post is live! 
Day 1 ~ Introduction
Day 2 ~ 8 Ways to Help Calm an Asperger's Child
Day 3 ~ Verses to Pray over your Child
Day 4 ~ Resources & Links to Help Parents
Day 5 ~ Words of Encouragement  Other Moms
Guest Post ~ Wendy shares her heart about having a teen son with Aspgerger's
Guest Post ~ Laura shares how she has found peace despite the Asperger's diagnosis