Today we are blessed to have another mom guest posting for my Life with Asperger's series! Laura blogs at Raising Soldiers 4 Christ and has a 9 year old son with Asperger's. Please make her feel welcome!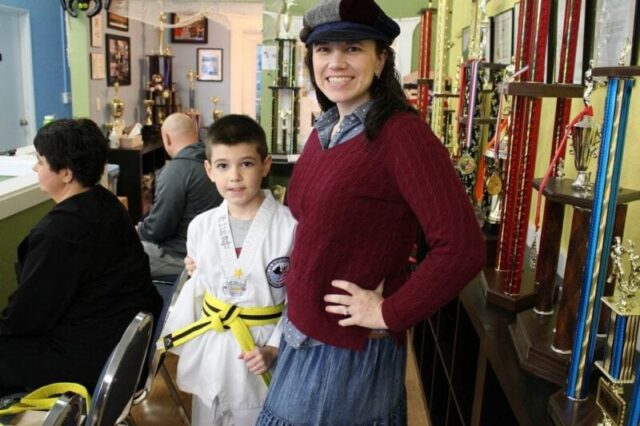 Aspergers….What?
Where should I begin? There are days I struggle.  Actually, there are many days I struggle a lot. There are days I cry out what seems like gallons of tears and days I wish we could have a "normal" child.  Then I realize this is normal; normal for us anyway.
Aspergers…. Seriously?
Three years ago when my oldest son was diagnosed with this "disorder", I was sleep deprived, stressed out, and desperate.  Days would begin with me putting one foot in front of the other, just making it through the next motion until bedtime. My son didn't sleep. He was a picky eater. He had behaviors that I just did not understand.  To add to my frustration, my middle son was speech delayed and the baby was recovering from the stroke he had in utero.  Oh, and I almost forgot, my husband was deployed.  Ahhhh, them memories (try not to notice the sarcasm).
Aspergers…Why?
It wasn't always like this. There was a time when he was a wonderful sleeper. He was easy to redirect and then it just seemed to all go down hill.  Everytime I tried to get him help, it seemed I or my husband was on trial. What does he eat? What do you do for discipline? The questions from care providers and psychologists were relentless.  I get there are bad parents, but what about the parents who are trying so hard to get their child the help they need?  The questions made my husband and I feel like failures.  The notes they took seemed to us that we were on trial for child endangerment.  They noted on their charts that the child "appears well dressed", "child appears groomed", "fingernails trimmed", and (my favorite) "child appears bathed and clean".  Seriously?  I want help for my child!  Can we address the behaviors?  Can we address what my child is and is not doing compared to a child who does not have the same behaviors?  Better yet, how about a child who actually sleeps?  We went to several Dr's and finally we moved to TX.  We still didn't have a clear-cut diagnoses. They slapped ADHD on him but we knew there was more to his behaviors than just ADHD.  After my husband left, the behaviors and the situation got worse – and that's putting it mildly. My mother and my sister-in-law were there for the deployment and they saw first-hand how bad his behaviors had gotten.
Aspergers….No Way!
His behaviors got so bad that going out in public was not a possibility.  I had to have a very important reason to go somewhere or we just didn't leave the house.  I got so desperate that I began ordering groceries from Schwann's or I would get food from a drive-thru just to avoid getting him out in public. I longed for normalcy.  I longed to load up the kids and head out for a fun day.  I longed for sleep  without fearing that he would escape the house.  I longed for peace.  I longed for more than a 2 minute shower.  I longed to breathe…just breathe.
Aspergers….the diagnosis?
Eventually, we got him evaluated and at the age of six, he was diagnosed with Aspergers. It really only confirmed what we already knew but I still grieved.  I grieved for the things they said my son would never do.  I grieved for the ideas I had about parenting before Aspergers hit our door.  I grieved because he was not easy to parent.  I grieved for a normal child who was easy to parent.  I grieved because I didn't want everything to have to be a fight or a struggle with him.  Why did it have to be so hard? So difficult? So challenging?  What did I do to deserve this?!  I wanted peace! Peace! Peace!  Finally, I just wanted peace with Aspergers.
Aspergers…Please help me LORD!
In the book of James, he says that the trials of our life should be used to draw us closer to the Lord. I wanted that.  I yearned for these trials and tribulations to bring me so very close to the Lord.  If only I had time in between desperate prayers and pleas to read my Bible and devote my time to getting a closer relationship to God.  However, God understands even our murmurs.  I know that during that season in my life, He knew my struggles, He heard my pleas and He answered my prayers at just the right moment.
Aspergers….It's time to fight back!
Eventually, I found an ABA therapist who came to our house and taught me how to get him to sleep.  Understand that he could literally stay awake for three (yes, 3!) days straight without any sleep, let alone a 30 minute power nap.  It was a nightmare.  She brought in another ABA therapist to help me and we got right to work.  I was excited and ready for it!  Then, reality set in.  That is, I saw how hard this next chapter in my life was going to be.  I put both the other kids to bed like normal.  Then we put my oldest to bed…..actually, we put him in the bed and told him it was time for sleep.  I had never heard such a commotion.  He screamed and he cried and he threw things.  At one point, he even stripped his clothes off and screamed to the top of his lungs trying to force open the door.  I cried like I'd never cried before.  My middle child cried because his room was next to my oldest.  My mom, who was still there, cried too.  Hours later he finally went to sleep that night.  The second night was the same as the first – more screaming, more crying, more throwing things, but more sleeping as well.  The third night was not as bad as the first two nights – less screaming, less crying, less throwing things and more sleeping.  Finally, he got much better at sleeping.
Aspergers….Coming to Peace!
It wasn't long after the sleep intervention that we went to another doctor.  The first question he asked me was  what I wanted to change about my son.  Well, I was taken back by the way he worded it.  I didn't quite know how to respond.  Remember that peace I told you about that I longed to find? It was in that moment that I looked at my son and I told that doctor that, although I was asking for help with certain behaviors, God did NOT make mistakes and he had not made a mistake with my son.  I told that doctor that I did not want to change him.  I left there and cried more tears because there it was.  My son has Aspergers.  God knew my son would have Aspergers.  God blessed me with my son because He knew I could handle these challenges.  God had given me the strength to continue each day.  He put the ABA therapists in my life when I needed them the most.  He ensured that doctor and I would cross paths for me to realize that He is the Author of my life and my son's life.  Thank you God.
Thank you for giving me peace with Aspergers.
But now hath God set the members every one of them in the body, as it hath pleased him. 1 Corinthians 12:18
You see, my friend, if you're struggling with similar situations or feelings, it is ok. God can and will help you out of it.  I promise that because He promised that to you.  That night, I finally found my courage to face Aspergers head on.  I have used these experiences to bring me closer to my Savior.  I have used these life experiences to help mold me and shape me.  I have used these experiences to help others.
How did I start my battle with Aspergers?  I began by leaning on God.  I had to make time for God, no matter how little sleep I got!  Somedays, I read a short scripture or devotion in the bathroom (yes the bathroom! LOL!).  However, believe it or not, God was there! 🙂
Then I decided that while my son may have Aspergers, it was NOT going to have him.  I was told all the things my son would never do.  Taking a page from my husband's book, don't tell me my I can't do something and definitely don't tell me my son can't do something!  Well to me that was a challenge! I was not going to accept defeat. I was going to embrace the challenge and teach my son he could do ANYTHING with Christ and that is what we did.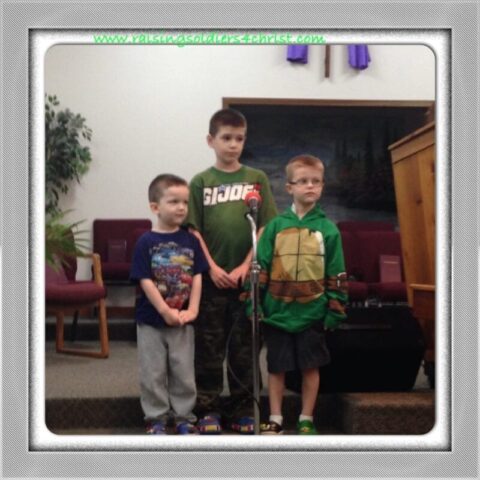 And All thy children shall be taught of  the Lord; and great shall be the peace of thy  children. Isaiah 54:12
The Lord sent me a respite worker in TX that would allow me breaks out of the house.  She had homeschooled her children and would even do lessons with my son if needed.  She was amazing and I miss her more than words can say.  She was a devout Christian and loved all 3 of my kids.  She would come do my laundry and help cook.  She was just simply amazing.  It was what I needed at the time.  Before my husband came home from deployment, I had put into place a lot of behavior interventions and they were taking shape.  My oldest was really improving each day.  He still had some behaviors I would like to get rid of, but baby steps. I went to conferences, I read books and I spoke to trusted experts in the field (like our ABA therapists) to find out what would help him the most.
Everyday life got easier. I was able to start going to the store and taking my oldest.  I was able to read more than one scripture in my Bible at any given time.  I even began attending a Bible study on post where they had a home school class for my oldest and childcare for the younger 2 once a week.
As time progressed with my son, he has grown and changed and really surpassed all expectations.  He has proved EVERYONE wrong, including myself.  He has taught me more about God's unfailing love and grace than any Bible study could.  He is active in AWANA, Tae Kwon Do, and he is very active in our church.  He can even sit through a regular service and even take notes!  Notes!  He takes notes while sitting still and paying attention! 🙂  He has done wonderful in school and has learned how to make friends.  He no longer receives ABA therapy because he doesn't need it now.  He still struggles with pragmatic language issues.  He speaks just fine and is able to convey thoughts clearly, but he has difficulty with carrying on a conversation (such as finding interest in someone else's interests).  We are still tweaking these skills.  Through Tae Kwon Do, AWANA and Church, he has gained much confidence from where he was several years back.  One thing about my son that never wavered though was his love for God.  My sweet boy accepted Christ at 4 years old.  He knew what he was doing and told the Pastor that he had accepted Jesus into his heart to wash away his sins.  He knew the scriptures to back up his belief:).  While he has struggled with many things, he has never struggled with his love for God and his wonderful ability to memorize scripture. Seriously, the kid is amazing at memorizing!
Recently, his new primary care manager reevaluated him.  Prior to the appointment, I thought perhaps he would come off the spectrum because he had made such huge strides.  However, he didn't.  While he has made leaps and bounds to progress, there are a few (what I call) quirks that he just cannot shake.  Leaving the appointment, I cried to my husband.  It was almost as if grieving again.  Why?  Because I wanted easy for him.  I wanted life to finally give my son a break.  Maybe I wanted it more for me than for him though, as he was totally unphased by the diagnosis.  Later, after I cried, I had peace again.  Nothing had changed.  The diagnosis, one way or another, did not change who my son is.  It did not shape what he can do.  It is not him.  It is a name.  God knows my son, He knows what my son can do, what my son can accomplish and I know that He can make ALL things work together for HIS good…..even Aspergers.  So I am left with peace. Peace that my son is exactly who God wants and needs him to be.
These things I have spoken unto you, that in me ye might have peace. In the world ye shall have tribulation: but be of good cheer; I have overcome the world. John 16:33
Now the God of hope fill you with all joy and peace in believing, that ye may abound in hope, through the power of the Holy Ghost. Romans 15:13
Blessings to you all!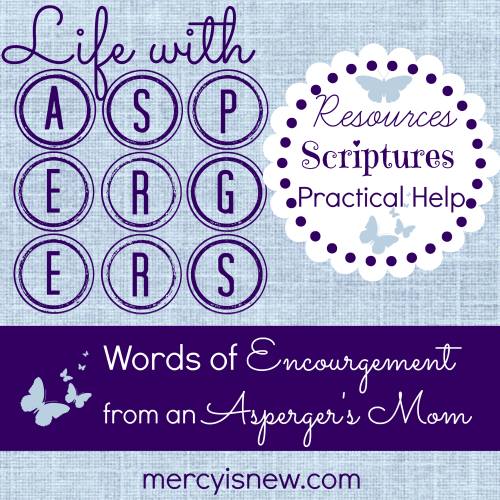 Life with Asperger's Series Posts:
**note these links will not work until each post is live! 
Day 1 ~ Introduction
Day 2 ~ 8 Ways to Help Calm an Asperger's Child
Day 3 ~ Verses to Pray over your Child
Day 4 ~ Resources & Links to Help Parents
Day 5 ~ Words of Encouragement  Other Moms
Guest Post ~ Wendy shares her heart about having a teen son with Aspgerger's
Guest Post ~ Laura shares how she has found peace despite the Asperger's diagnosis