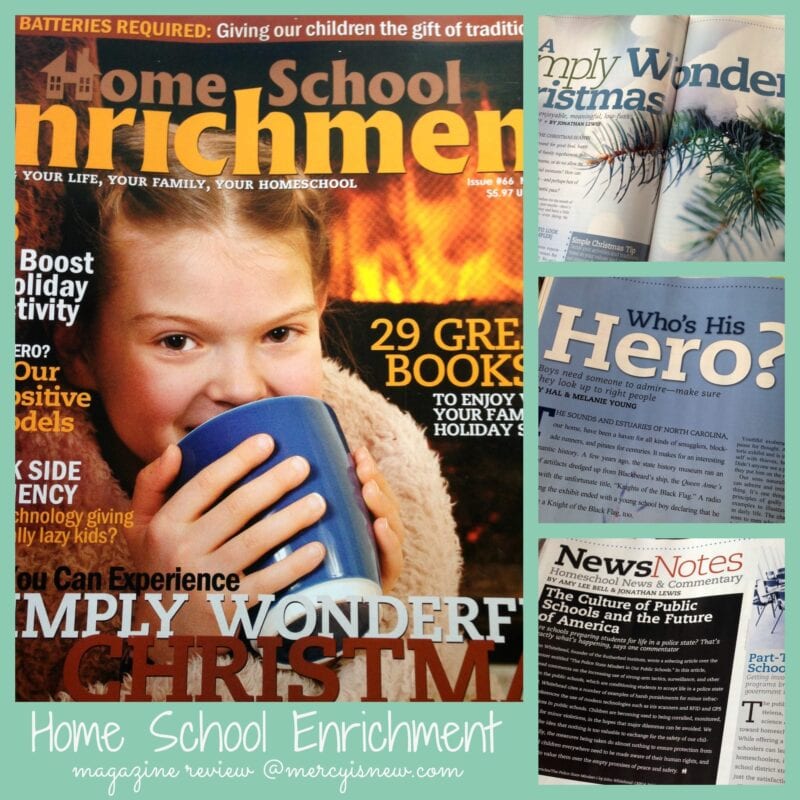 I received a lovely magazine in the mail last week! I rarely get the luxury of sitting down with magazines anymore, but when I do, I love looking through them. Especially a magazine that shares my values and has so many articles that truly pertain to my life as a homeschool mom.
I am a blogger, I love my iPhone, my iPad and the techy world we live in. But, when it comes to magazines and books, I still prefer the "real thing." You know, paper, page turning and holding a magazine in your hands? The old fashioned way??
So, you can see why I was so excited to received this beautiful magazine in the mail. It's called Home School Enrichment and I believe it really can enrich us as home school parents.
As a homeschool mom, we need encouragement. (I mean, every mom does, right?) But we need encouragement specific to our callings. That is where reading blogs from homeschool moms, books written for homeschoolers and magazines have really helped me on this journey. I don't mind going against the grain, I don't mind being weird (ha) but from time to time, I need to be reminded that I'm not alone on this crazy journey of homeschooling. I need to hear from other families who are on this journey also. I need tips and advice from older, wiser moms who have already walked this path.
That is why I love and recommend resources like this magazine. I need it, y'all.
A one year subscription to this magazine is $21.97, for 2 years you can save a few dollars at $37.97. (a subscription is 6 issues per year.)
That isn't a lot to pay for the encouragement we all desperately need.
Some of my favorite articles in the November/December issue were:
A Simply Wonderful Christmas (simplifying!!)
29 Great Books to Enjoy with Your Family This Holiday Season
Who's His Hero? Giving Our Sons Positive Role Models
Homeschooling Related News & Current Events
So, what are you waiting for? Click over and subscribe!