A few years ago I shared about one of my ALL TIME favorite gifts I have ever given my children! So, when Vicki mentioned doing a round up of Free & Frugal Christmas Gifts, I knew I had to share this idea again!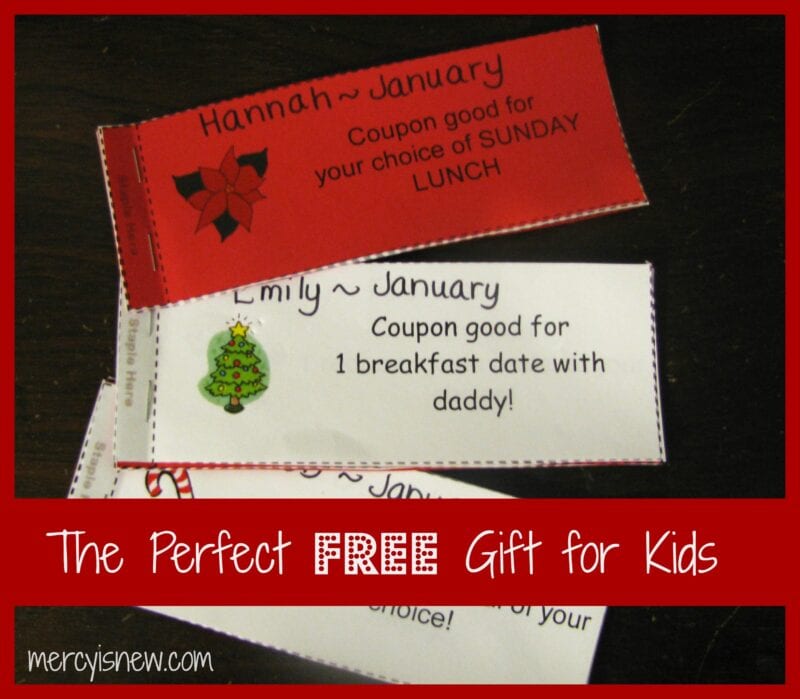 Several years ago we gave each of our children a coupon book full of 12 coupons with fun ideas for them to use throughout the year. The idea was that they would use one each month, and I even went so far as to label each month so that I could put something special in their birthday month. 🙂 So, each child had 12 coupons.
For me, this was an awesome way to ASSURE that those special one-on-one times we wanted to have but forgot or just never got around to, well this would help make those things happen!! These coupons would help us be more intentional on ideas we've had in the past but never carried through with.
Give a kid a coupon book and he will not let you forget about using them. ha!
Ideas for Coupons
1 Redbox movie of your choice
Sunday dinner of your choice
Dessert of your choice
Date night with daddy
Date night with mommy
birthday date with mom or dad
Christmas shopping with mommy
bake a treat with daddy
family fun day of your choice (within reason!)
one-on-one date with grandma/grandpa/aunt/uncle (anyone the child would be excited to spend time with!)
your choice of games for family game night
ice cream sundae party
invite one friend over for sleep over
invite one friend over for pizza and a movie
I used this page to create free coupons, but I'm sure there are tons of options online!
I'm linking up with Vicki who has a whole slew of Free and Frugal Gift Ideas collected on her blog, as well as Thrifty Thursday!!