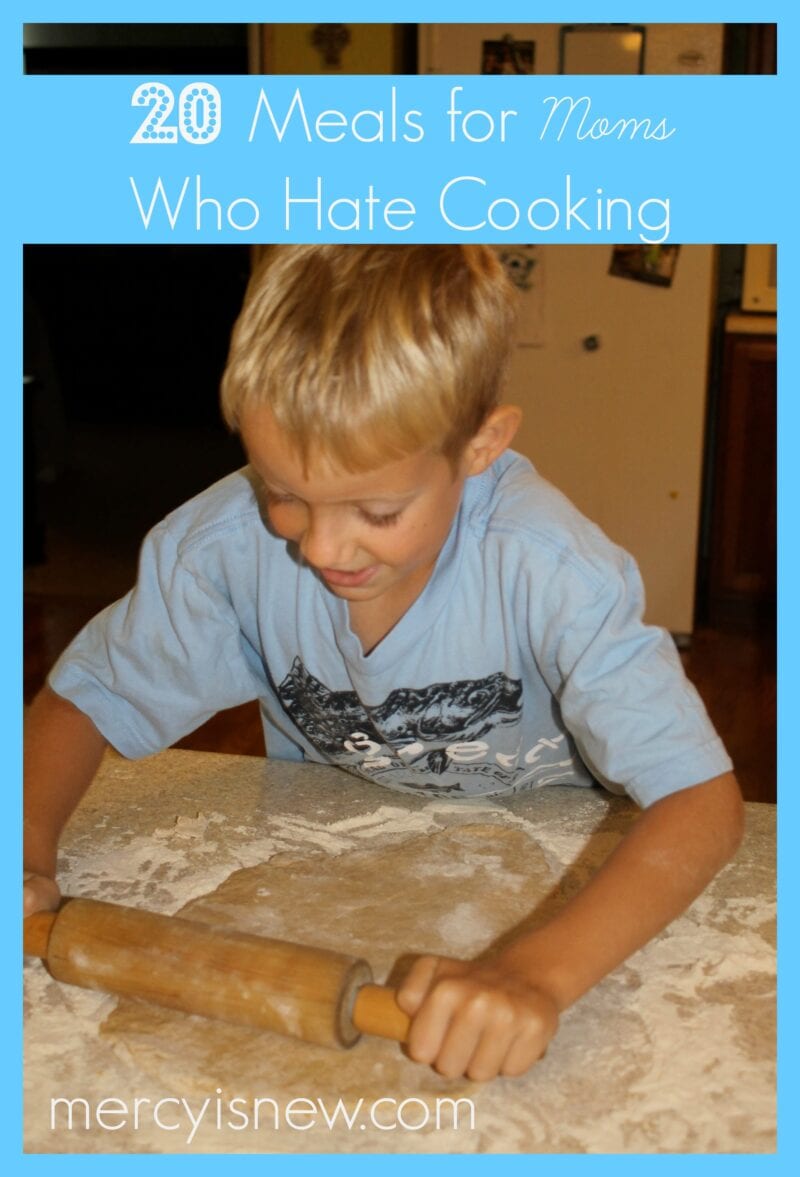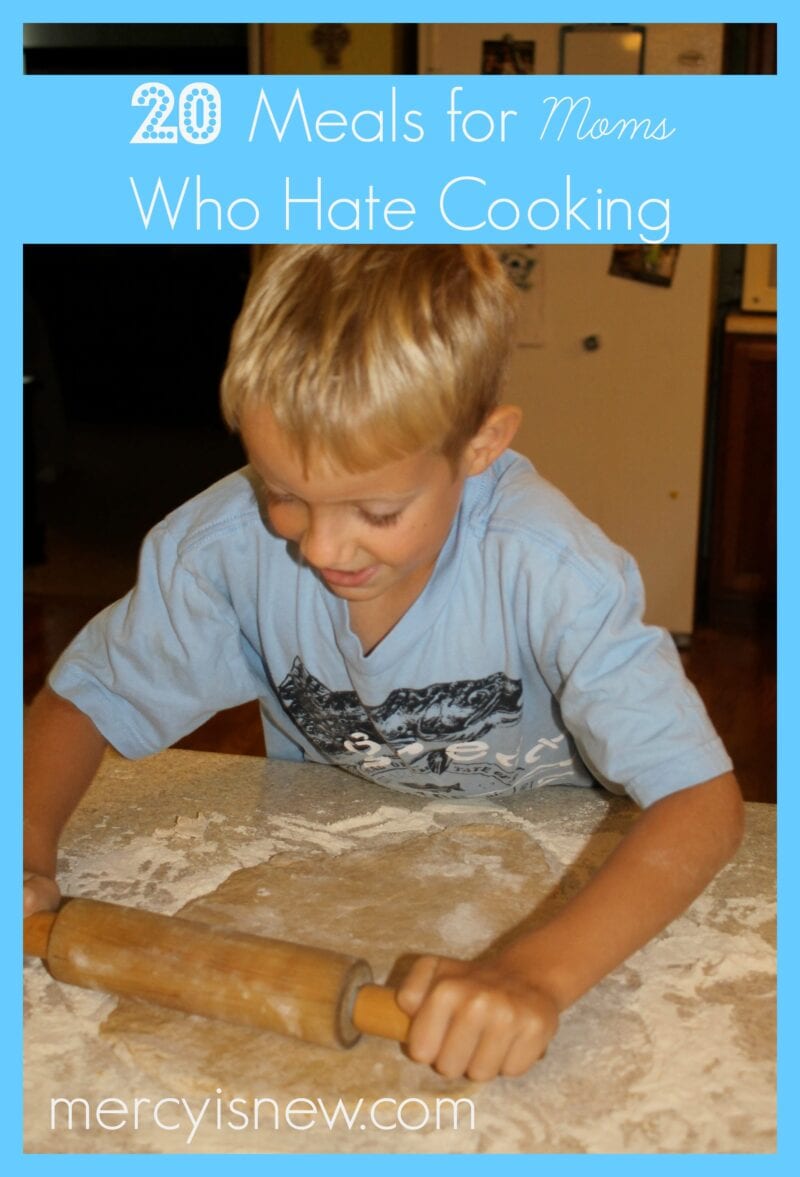 I should amend the title a bit: 20 Meals for Moms Who Hate Cooking…But Still Desire To Fix Healthy & Frugal Meals For Their Families! 
Of all people, I should not be sharing recipes with you!! I've shared a recipe here and there…but I am not a cook, and usually the recipes I share are quick and easy. I don't ever come up with my OWN recipes…and I don't enjoy spending hours in the kitchen!
But, every time I mention menu plans or easy meals that we have, I always, ALWAYS get message, comments or emails asking me WHAT EASY MEALS do you make?!?! Some of you are quite desperate. Maybe as desperate as me. 🙂
So, I'm sharing my secret. I choose approximately 20 meals and keep a list on my fridge. I shop for all the ingredients for these meals and therefore, *most* days I can choose any from this list and have a good, healthy meal on the table in LESS than 30 minutes.
I know it is a common misconception that because we homeschool we must enjoy baking bread or just being in the kitchen in general. To be  honest, if we have a good school day, generally that means the house AND the kitchen have been neglected!! Having these meals has saved my sanity time and time again.
No, they aren't fancy. No, they will never be found in a cooking magazine. But, at this stage in the game, my goal is to SAVE us money by having meals on hand, and to eat more HEALTHY options. See 10 ways we save money without coupons on this post. 
So, here are the meals we regularly have in our home. Every once in awhile, if I see something exciting on Pinterest I will try something new and add it in there, but usually we just have something from this list!
20 Meals for Moms Who Don't Love Cooking
Lasagna (I try to make 3-4 at a time to stick in freezer!)
Chili (Just browned beef, diced tomatoes, dark red kidney beans and chili seasonings)
White Chicken Chili
BBQ Chicken in Crockpot (Chicken + 1 jar BBQ, served shredded on buns)
Lemon Chicken in Crockpot (I only use 1/2 of ONE lemon, recipe calls for much more.)
Roast with Potatoes, Carrots in Crockpot
Baked Spaghetti or Baked Ziti (same dish, different pasta)
Chicken Casserole (chicken, sour cream, homemade cream of chicken – see below – and crackers/butter for top)
Chicken Pot Pie (with Bisquick or store-bought pie crust for topping)
Breakfast ~ Eggs, Bacon/Sausage
Breakfast ~ Pancakes, Bacon/Sausage
Lasagna Soup (2 changes to this recipe: brown beef first, also add 2x as much pasta as recipe calls for)
Fried Rice & Chicken (I just use the fried rice recipe from this page, not the orange chicken)
Tacos ~ either shredded chicken from crockpot or beef
Potato Soup (just potatoes, chicken broth, milk and seasonings! top with cheese, sour cream, etc.)
Whole Chicken from Crockpot (we use the bones, pour water over them to continue cooking crockpot for broth, see link below)
Pizzadillas or Quesadillas
Pork Chops or Fish (Salmon, if I find a good deal)
A few notes:
Cream of Soups: Anytime you see "cream of" soup, I use this recipe (with regular milk, not low-fat)  for my own homemade "cream of" soup – much healthier! And so easy!!
Sides: We have a salad or fresh veggies & dip for most every meal. I will also make roasted broccoli, roasted sliced carrots or rice pretty regularly also.
Chicken Broth: I use this method from my friend, Ami, and buy whole chickens when they are on sale! I have quarts of broth usually in my freezer at all times.
I no longer fix rolls/bread to go with every meal. I *try* to do grainless meals whenever I can, but my kids were missing lasagna, so I stuck that back in there. And really, a handful of times a month for dinner, I'm ok with that.
Get your kids helping and baking in the kitchen at an EARLY age!! My 10 year old daughter can now make bread on her own!! Recipe coming soon for Grandmama's 100% Whole Wheat Bread…check back in a few days.
Here are my recipe related pinterest boards where lots of these recipes came from! Main Dish Recipes, Desserts, Breakfast, Soups, Side Dishes, and Delicious Drinks 
So, friends, tell me…what are YOUR favorite SIMPLE and HEALTHY meal ideas?? If you have one to share, I'd love for you to leave it in the comments section!! Also, questions about any of these meals? I will answer you in the comments and come back to leave more notes in this post if I've left out something important. 🙂