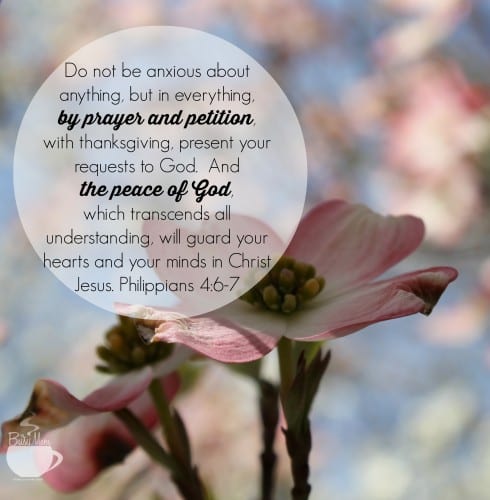 As moms, it can seem impossible to go a day without feeling anxious, overwhelmed, or worried about our families and children. I have a tendency toward depression, which lends itself to anxiety also…so for my personality it may be even more so drawn that direction. Regardless of our personalities, though, God's Word does give us the answers to our anxiety problems.
God's Word doesn't give us a formula, it leads us to a relationship. There are no 3 easy steps to getting through anxiety and depression in our lives, but He gives us the grace of Himself in us. Christ in me, the hope of glory!
I believe that this passage in Philippians, one of my all time favorites, gives us one of the major keys to having peace in difficult times of anxiety. Does the Lord promise to take our problems away? No. Does the Lord tell us this life will be easy? No.
But, He does promise us Himself and His peace. And that peace, friends? That peace is beyond our understanding. The hardest moments of our lives don't magically disappear…but that peace transcends anything on this earth that we can see, touch or feel.
Please join me at The Busy Mom to read the rest…