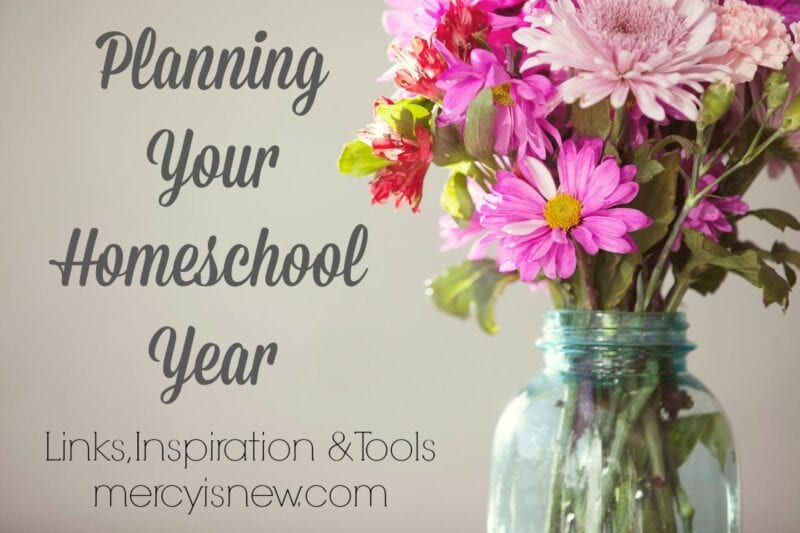 Are you in the planning mode?? I have a wealth of goodness here for you today!! Links from my blog as well as all around the web for getting your planning done for the 2014-2015 year!!
First, you need a good dose of inspiration. Here are a few of my favorite books for homeschool moms to read and BE ENCOURAGED. These aren't how-to books, but inspiration and motivation books. Just what we need. 🙂
Inspiration
For more inspiration before you dig in deep to get all the subjects covered, all the grade levels accounted for and all the credits lined up…I really encourage you to do some reading that will inspire and encourage YOU, the mom, the teacher. You won't be disappointed if you choose Sarah's new book Teaching From Rest. Sarah shares how it really is possible to teach from a  state of rest rather than a state of overwhelmed and anxious.  I think this should be on every homeschool mom's summer reading list.

Maybe you're wondering how to combine your preschoolers with school age kids this year? My friend, Kendra, has a fabulous (and cheap!) ebook out on this very topic. I read this book and came away so encouraged. I know you will be, too!
Preschoolers and Peace: Homeschooling Older Kids With Success While Loving the Little Ones at Your Feet
Now that you're thoroughly inspired, I have put together a ton of links to help you in different subject areas as well as just planning in general. I hope you find something useful here!
Circle Time
We've done circle time (I called it morning routine) every since our earliest days with little ones. Lots of reading, Scripture memory, songs, calendar…the perfect way to start your day!! This book will help you plan and implement your circle time too! Also, find 6 Steps to Planning Circle Time here. And Mystie shares how she keeps her Circle Time simple.

Science
History
Art & Poetry
Memory Work Helps & Inspiration
Planning Inspiration Posts
Planning Tools
Planning pages from Pam:
Sweet friends, this list of links should keep you busy for the rest of the summer! Grab a cup of your favorite beverage, find your favorite comfy chair and be ready to be inspired as you peruse these amazing links that were put together just for you!