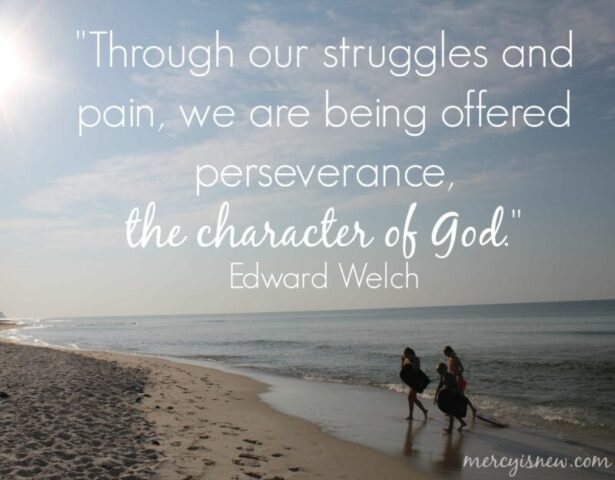 "If Jesus Christ learned obedience and endurance through what he suffered, why would we expect our lives to be different? Through our struggles and pain, we are being offered perseverance, the character of God. Hardships are intended to give us a spiritual makeover. Therefore, when God encourages us to persevere, he is not stumbling for encouraging words, He is teaching us how to look like Him."
Edward Welch from Depression: Looking Up from the Stubborn Darkness
 chapter 10
This says so much to me. We want OUT of the suffering…but if we are to be true followers of Christ, where will we follow Him? To the cross. He suffered. For us. God is making us more like Himself when we endure and persevere. As hard as it is to acknowledge that in the midst of the pain, on the other side of it, we can often learn to be thankful for the struggles.
When we allow ourselves to be made into the image of Christ, which is our ultimate goal as believers, we are placing ourselves into the hands of a loving Father who has our best interest in mind. That best, though, often includes suffering and pain. Remember, He is making us to be more like Jesus. Think about the life Jesus led…He was misunderstood, He was mistreated, ultimately He gave His very life in a very painful way for my heart.
Do we want to be more like Jesus or not?
More posts from this book