Praying the Words of God has changed me. Prayer is not a monologue, but a dialogue. But, how can we know the voice of God in this busy, loud world we live in?
That is where Praying the Scriptures has had a beautiful impact on my prayer life. I have shared that praying the Psalms has given comfort during times of depression. Praying the words that David prayed to God in His times of trial help me to know that I'm not alone.
In times of discouragement, pray through Lamentations 3:21-26. 
In times of joy and thankfulness, pray Psalm 100.
When you need wisdom, pray James 1:5-6.
When you struggle with fear, pray Psalm 27.
God's Word does not return void. When we pray His very words, we know we are praying in alignment with His Will and His heart for us and for the world.
Practically speaking, though, what does Praying the Scriptures actually look like? I have 5 Practical Ways to Pray the Scriptures here.
Words matter. God's Words most of all. They are powerful, life changing and life giving.
Introducing Letterpress Blocks
I love filling my home with God's Word. This beautiful new line of words from Dayspring & (In)Courage helps me to do just that.
Given that God has drawn my heart to His so greatly through prayer and His Word, when given the opportunity to create a word with Dayspring's new Letter Press Blocks, of course I created the word PRAY.
What word would you create? Go here to create yours!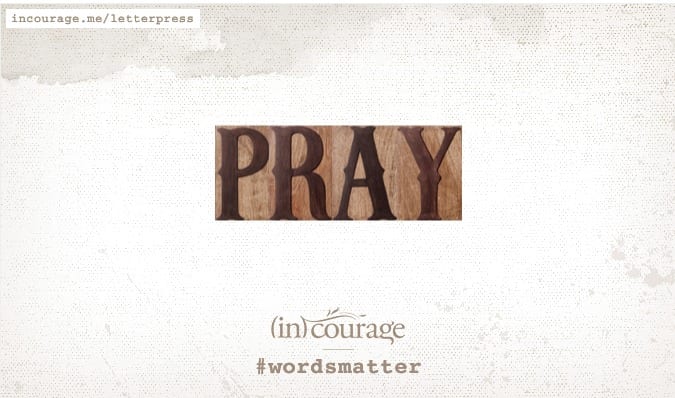 Lovely Gift Idea
These would also make lovely gifts! I can think of several special couples in my life that I would love to give this to!
{Update: Give Away is now closed.}