Our happy anniversary dinner. 🙂 
God's Glory Outside My Window
FALL IS HERE. I love fall. Fall is my favorite. 🙂 The highs in the 70's is SO much better than the 80's and 90's. I've noticed a few leaves changing, but according to reports I've seen the PEAK season in the Smoky Mountains will be the later end of October.
Giving Thanks
Giving thanks for 14 years with my awesome better half. We celebrated with an overnight trip to Gatlinburg, thanks to Nana keeping the kids! We haven't had a night away in years, so this was wonderful! It was RELAXING. We ate great food, the best part of any trip, in my opinion. 🙂 And we went on a hike in the mountains, to Grotto Falls. It was gorgeous!!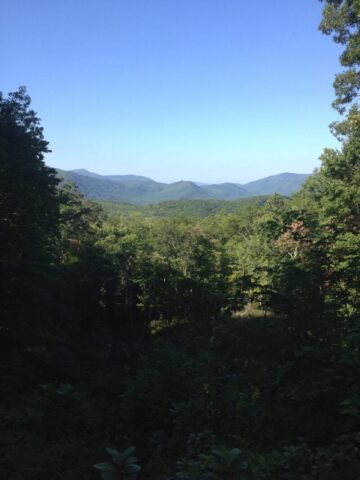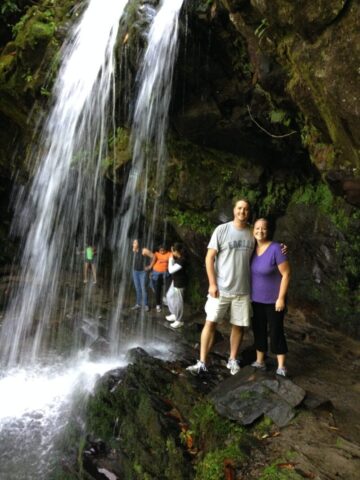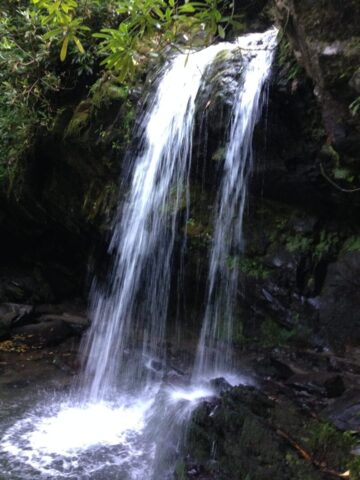 From The Kitchen
I have been doing FREEZER meals a bunch! Since I am teaching piano lessons 2 evenings a week (during dinner time) I've gotten lots of meals in my freezer! Yay! I've been to 2 different freezer cooking events where we prepared a bunch of meals all together and then brought them back home. This is a FABULOUS way to do it, if you know of anyone in your area doing it! I also have a friend selling Pampered Chef and they have started new freezer workshops! I went to one last week and it was great!!
Around The Home
You know, with my kids not being home all.day.long now, the house really doesn't stay as dirty! This was truly something that weighed on me as a homeschool mom, I could never have a good homeschool day AND clean AND cook. Usually ONE of those things got done. And I feel so much more at peace when my house is relatively clean. We try to do some chores and cleaning on Saturday mornings and that helps.
On My Nightstand
Our book club right now is reading Ishmael, which is a Lamplighter book, if you're familiar. This story is SO GOOD. It is a LONG read, but worth it. You can get it FREE on kindle!
I got a preview copy of Ted Dekker's latest book, called AD 30, and it is FABULOUS. It comes out at the end of October and I will be sharing more about it. 🙂 Oh my. If you like historical or Bible times fiction, you will LOVE this book!!! I couldn't put it down.
Clicking Around
So many blogs, so little time! I haven't been reading as much (or blogging myself) lately…we've just had a stressful/crazy few months! Since starting piano lessons and trying to cram in lots of summer fun, my computer time hasn't been quite what it was a few months ago. 
Prayerfully
Praying for my kids fervently. Hoping and praying that all these changes in our lives will show some fruit and blessing sooner rather than later. I know it's selfish to ask that, but it's my mama's heart's cry.
Plans For The Coming Week
31 Days of Praying the Scriptures for Your Families starts on WEDNESDAY! Do join me! 🙂 I'm so excited about this series! I will be sharing ONE Scripture per day through the month of October for us to pray over our families!
Happy Fall Y'all!!