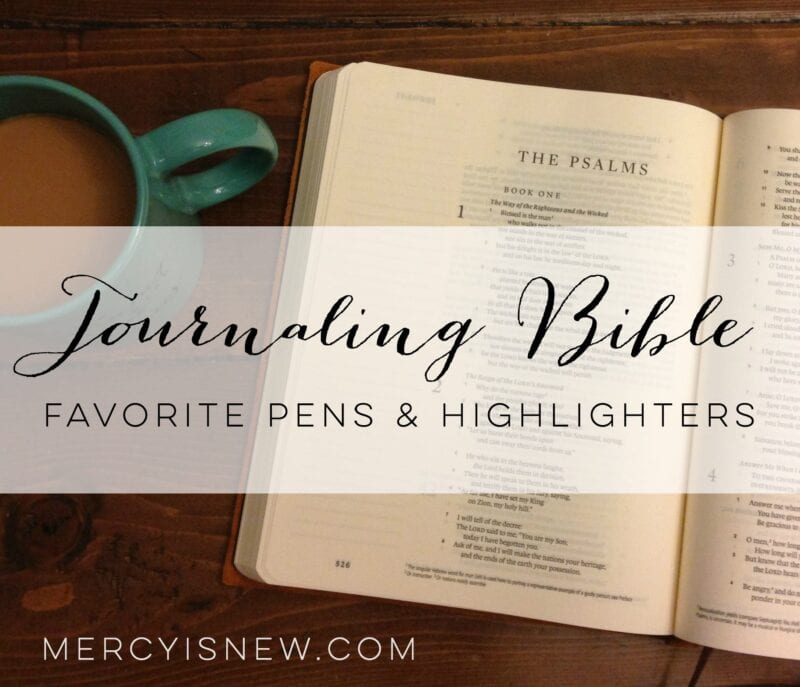 Journaling Bibles are really popular right now. I am seeing more and more pictures creep up of them, I'm following so many creative people on Instagram, and I'm LOVING it. Honestly, I don't care if it's a phase…the important thing is that women are IN GOD'S WORD and that is what matters!
I mentioned back in December that my new journaling Bible was my Christmas gift to myself. I couldn't have picked out a better gift for myself. I have been enjoying my new Bible so much. I have always been one to underline and highlight and take notes in my Bible, so I'm thrilled that now I have ROOM to write in my Bible and still be able to see all the words beside it.
I've been trying a few different types of pens and highlighters and wanted to share what my favorites are so far! I would love to hear from you, too, in the comment section — tell me what your favorites are also!
Before I list all my favorites, I want to remind you of something very important! 
All you need: God's Word + The Holy Spirit in you
Truly, you don't *need* all these items. You don't *need* a journaling Bible. Don't be discouraged if you aren't able to purchase one right now. God's Word never returns void, no matter what type of Bible you hold in your hands. These tools that I use, they are just that: tools. They help me to study, to focus, to hide God's Word in my heart. But they are not as important as God's Word. That is what matters most.
Best Pens for the Journaling Bible
I've written in my Bible for years. I didn't realize this type of pen existed til a few months ago! Woo-hoo! A whole new world has opened up to me! I LOVE these micron pens. These are the BEST pens for journaling Bibles, in my opinion!!
They do not bleed through the pages!! 
Micron Assorted Colors Ink Pen Set
Favorite Highlighters for my Journaling Bible
I wanted to say FIRST that these highlighters are DIFFERENT than anything I've ever used! They are GEL. They do not bleed through at all, and once the ink is on the page, it feels like crayon. Weird.
I also want to mention that these do NOT HAVE A POINT. That was weird to me at first, because i could not gauge where I was writing on the page. But, it just took a few lines for me to get a grasp on how to use these better. Practice on some other paper before you write in your Bible.
What I love about these is that it isn't a wet/liquid/paint type feeling. It's very light and goes on the page so smoothly. Honestly, you just have to try them to get the feel of them. I love them.
ACCU-Gel Highlighters Study Kit
My Journaling Pinterest Board
Follow His Mercy is New's board Journaling on Pinterest.
My Journaling Bible
This is the Bible I use. Again, there are more affordable options. I shared in my other post that I had been through 3 Bibles in the last 5 years, the pages and binding would all start falling apart. I spent a little more in the hopes that it will LAST. 🙂 So far, so good.
ESV Single Column Journaling Bible (Brown, Flap with Strap)
Another option for $30: ESV Single Column Journaling Bible (Black)
So — tell me, do you have a journaling Bible? Do you have favorite pens that you use, even in a regular Bible? I would love to hear your favorite resources!