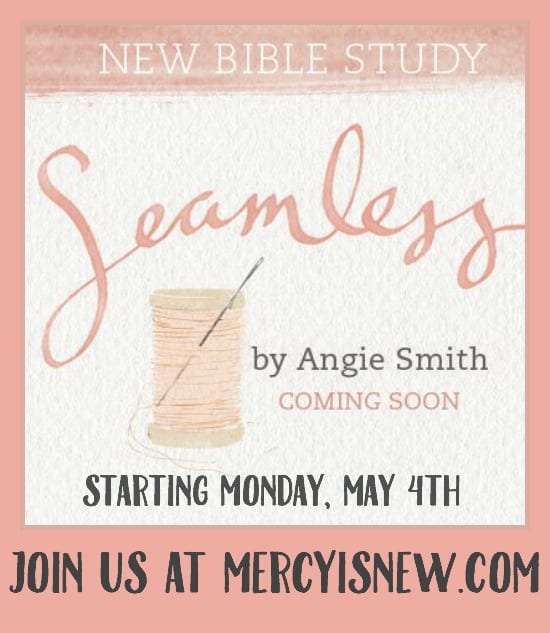 I am so, so excited to announce the first online Bible Study we will do together! I've wanted to do this for a long time, but with the finish of the Bible in 100 Days, it seemed like the perfect time to KEEP GOING in our studies of God's Word!
I have been a long time fan of Angie Smith, who wrote about losing their daughter, Audrey Caroline, in the book I Will Carry You: The Sacred Dance of Grief and Joy
. This book is a fabulous book for anyone grieving, not just the loss of a child, but the book encouraged me greatly in my struggles as well. She went on to write more books that also became my favorites! What Women Fear: Walking in Faith that Transforms
, Chasing God
 and Mended: Pieces of a Life Made Whole
. I've read all of her books so I knew her Bible study would be equally as great! Your little girls might be interested in her beautiful children's book Audrey Bunny
 or For Such a Time as This: Stories of Women from the Bible, Retold for Girls
.
This is Angie Smith's first Bible Study and I'm blessed to be on the launch team for this study. When I started looking into this more, at what all the Seamless study covers, I knew I wanted to do this with a group online!
Description of Seamless Bible Study
Understanding The Bible As One Complete Story
In seven sessions, Seamless covers the people, places, and promises of the Bible, tying them together into the greater story of Scripture. Participants will gain an overarching understanding of the fundamental layout and meaning of God's Word. Each week of study features key information that ties all of scripture together into the seamless truth of the gospel message and is accompanied by maps, general Bible facts, and word studies.
Seamless Member Workbook on Lifeway
Head to your local LifeWay store and pick up a copy! If you don't have a Christian book store nearby, feel free to order online as well:
Here is where you can purchase the member book for our study of Seamless!
If you have tweens or teen girls that you would like to do the study with, here is the student book!
His Mercy is New Facebook Page
Each week I will be starting discussion questions on my new Facebook page for His Mercy is New. I hope you will join us there for conversation and fellowship!
Important Details
Buy your book from Lifeway in time to have it by the time we start on May 4th. This study will take us through mid to late June.
Head over to His Mercy is New Facebook page for weekly discussion questions.
Invite a friend or do this with your teen/tween daughters!
Pray for our online group that we can dig into God's Word and learn more about His character through studying His Word.
Grab your Bible or your favorite journal, your favorite pen and let's dig in! (I hope to share some journaling Bible entries through this study!)
Introduction Video from Angie Smith
Giving Away 3 Copies
This give away is now over. The winners are: Renee, Amanda and Deborah!! Congrats!