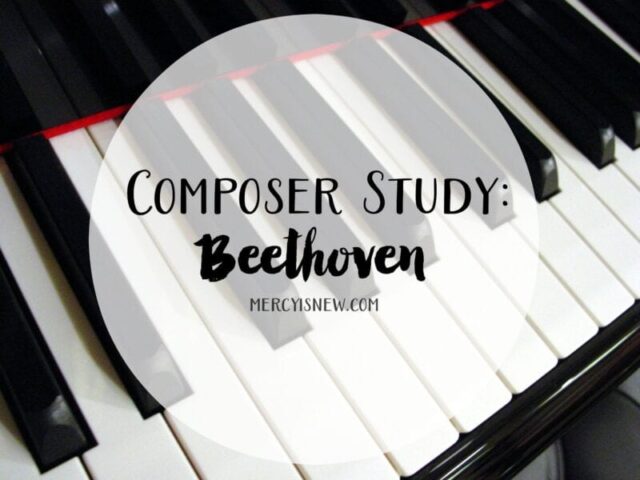 As most of you know, I teach piano lessons 2 days a week. I currently have 27 students and love my job and my students! One thing that I want my students to gain more of this year is music history and composer studies, as well as LISTENING to the classics. I fear we will have a whole generation of children in just a few short years who don't know who Beethoven, Mozart and Brahms are! We've got to do something about that.
So, I decided to try something new this semester in my music studio. I am going to introduce a composer for the semester to my students by using various methods and resources. This is just sort of a trial run, we will see how it goes.
I will be sharing music and biographical information on a composer in our group lessons and give listening assignments for at-home as well. I have quite a few homeschool students (19 currently) and I hope that maybe some of my homeschool families will use these resources as a STARTING POINT to do more in-depth learning on their own about these composers! Of course, public school families may wish to do this also, but usually they don't have as much time in their day for lots of extras.
Now, I will not be using ALL of the resources I am listing in this blog post! But I am hopeful that some of you will find something useful here to use in your own home when teaching your children about Beethoven!
Beethoven Poster Board Idea
Beginning with our first lesson this semester, I'm going to ask my students what they already know about Beethoven and I'm going to start a list on a large piece of poster board! After that first group lesson, I'm going to give them a bit of homework: come back to your next lesson with one NEW fact about Beethoven that you didn't know before!
I'm going to add ALL the facts to this poster board for all students to read and learn at their lessons. Then, by the time we have our next group lesson, we will have a whole poster board of facts about Beethoven that we didn't know before!
Learning to Spell Beethoven's Name
I wanted my students to be able to correctly spell Beethoven's name! And it can be a tricky one for younger kiddos.
So, I started putting the letters of his name to famous melodies and this is what I came up with!
To the tune of Frere Jacques 
B-E-E
T-H-O
V-E-N
Bee-tho-ven
Ludwig is his first name
Beethoven his last name
Bee-tho-ven
Bee-tho-ven
**If you want to watch some of my students singing this song, go here!
Biographical Information
Books
Music for Listening
Videos & Movies
The 2nd half of this episode of Peg + Cat is about Beethoven!! I love it!
This video has more biographical information on Beethoven. Warning: this video mentions his father's alcohol problems if that might be a sensitive issue for your family. 
Super cute (and short) video all about Beethoven's WIG!!
Beethoven Lives Upstairs is a movie made about this famous composer! You can watch the whole thing on youtube, it is divided into several different videos. Or you can purchase the entire movie at amazon if you wish: Beethoven Lives Upstairs
 The audio version is great as well: Beethoven Lives Upstairs Audio Version (CD)