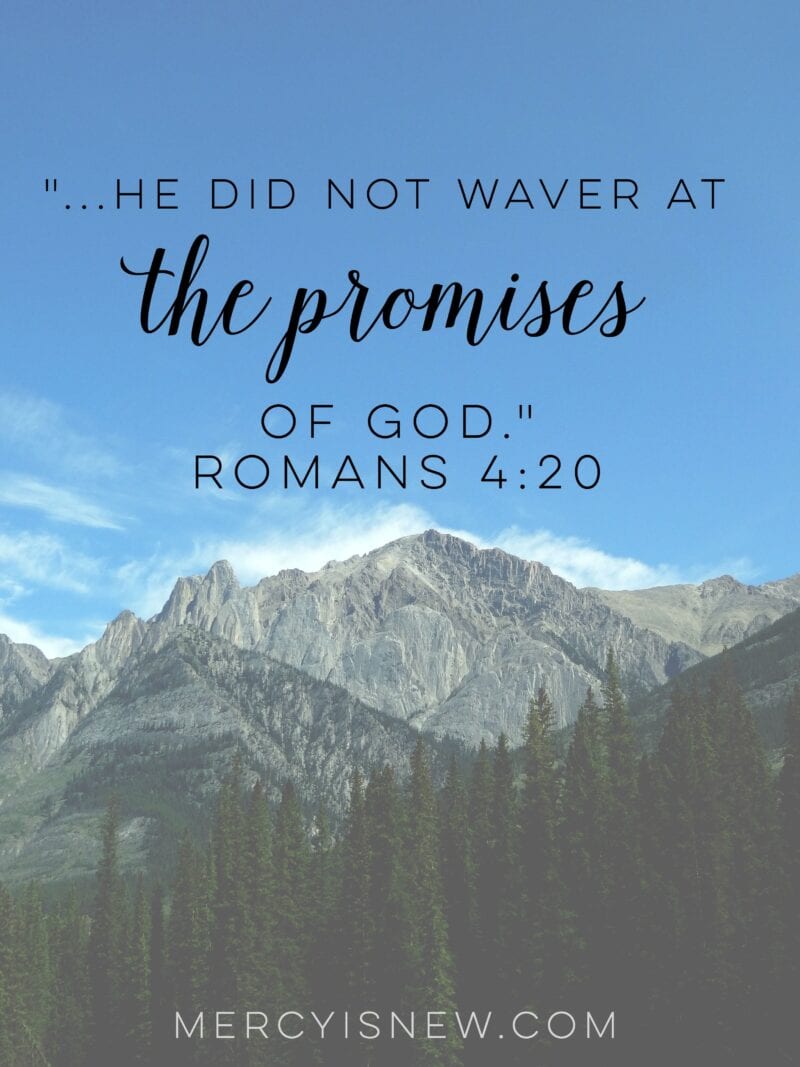 "Abraham did not waver at the promise of God through unbelief, but was strengthened in faith, giving glory to God, and being fully convinced that what He had promised, He was also able to perform." Romans 4:20-21
Oh to have the faith of Abraham! To wait years and years to see a promise God had given him fulfilled…and to not give up hope!! God's Word tells us that Abraham did NOT WAVER in unbelief, he clung to the promises of God and did not give up hope that God would be faithful to keep His promises.
Is there a promise of God that you're struggling to believe? Hold tight. Draw near to God, believe Him, ask Him to help your unbelief. Sing Tis so Sweet to Trust in Jesus. Remind yourself of the promises of God.
Promises of God
God will never leave or forsake you. (Joshua 1:5)
God's Word is true. (Psalm 33:4)
He is with us in our most difficult seasons. (Isaiah 43:2)
He has a plan and purpose for our lives. (Jeremiah 29:11)
We can trust in Him and He will direct our paths. (Proverbs 3:5-6)
When we resist the devil, he will flee. (James 4:7)
We can draw near to God and He will draw near to us! (James 4:8)
Can we truly be more like Abraham? Do you ever feel like you are destined to be faithless? No matter how hard you try you just can't help but waver?
I've been there. Sometimes I still go there. I wonder why my faith is so weak that I can't cling to God more steadfastly. Why do I fear? Why do I worry?
Clinging to the promises of God without wavering doesn't mean your faith is perfect. Clinging to the promises of God means that even in the darkest and hardest seasons, we CHOOSE to pick up our swords, to speak truth, to preach the gospel to ourselves. I think Abraham must have struggled, he was human. But, what makes him different?
Abraham did not give up. He knew that even when he couldn't see the fulfillment of the promises that God was faithful. He trusted God and did not give up on God.
Sweet friends, we cannot give up on God. We cannot give in to fear. We must pray more and worry less. We must trust God and lean not on our own understanding.
We also better believe that we are in a battle!!
If you haven't seen War Room
, I cannot recommend it highly enough to you. You will be so encouraged and fired up to fight this battle on your knees. I'm also reading the book that Priscilla Shirer wrote to go along with this movie. It's not a book based on the movie, it's a book sharing her praying grandmother's strategy for prayer. It is so, so good!! The book is called: Fervent: A Woman's Battle Plan to Serious, Specific and Strategic Prayer
.
We must set aside our own selfishness, our worries, the cares of this world…turn to God, draw near to Him and HE WILL DRAW NEAR TO YOU. That is a promise, dear ones! Reading, clinging to and PRAYING the promises of God will strengthen your hearts in Christ!
Look at the passage in Romans again, if you keep reading, what does it tell us Abraham did to not waver?
Abraham was STRONG in FAITH.
Abraham gave GLORY to GOD.
Abraham was FULLY CONVINCED that God would fulfill His promises.
This tells me that even in the hardest times to believe, Abraham praised God (giving Him glory) even though he couldn't yet see the fulfillment of the promise. He gave glory to God!
What can we praise God for though we haven't see fulfillment? Can we praise Him in the storms of our lives? Today, right here, in this moment, can you find something to praise God for? Can we give Him glory because of WHO He is and TRUST HIM because we BELIEVE His Word to be TRUE?
Trust and Obey
When we walk with the Lord in the light of His Word,
What a glory He sheds on our way!
While we do His good will, He abides with us still,
And with all who will trust and obey.

Refrain:


Trust and obey, for there's no other way
To be happy in Jesus, but to trust and obey.

Not a shadow can rise, not a cloud in the skies,
But His smile quickly drives it away;
Not a doubt or a fear, not a sigh or a tear,
Can abide while we trust and obey.
Not a burden we bear, not a sorrow we share,
But our toil He doth richly repay;
Not a grief or a loss, not a frown or a cross,
But is blessed if we trust and obey.
But we never can prove the delights of His love
Until all on the altar we lay;
For the favor He shows, for the joy He bestows,
Are for them who will trust and obey.
Then in fellowship sweet we will sit at His feet,
Or we'll walk by His side in the way;
What He says we will do, where He sends we will go;
Never fear, only trust and obey.
Never fear, dear ones. He is near. He is with you. He has a plan and a purpose for your life as well as for this hard circumstance in your life. Whatever you are facing today, God is bigger.