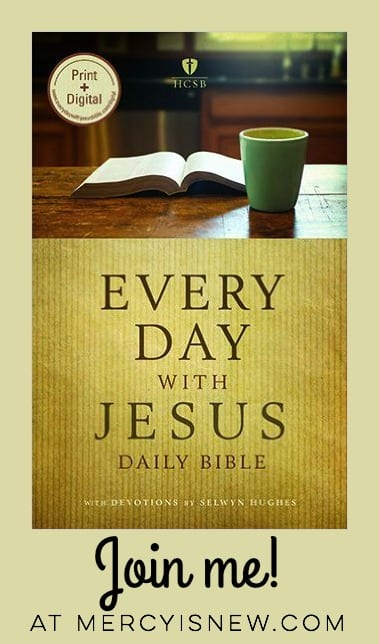 Many of you have read the Bible in 90 or 100 Days with me! That is such a whirlwind read-through and I LOVE doing that every few years!
However, in 2016, I am going to slow down and SAVOR and take the YEAR to read through the Bible.
I'm going to admit right away that usually these longer plans end up being a big FAIL for me — in that I don't end up finishing the plan. (But, I remind myself that it's never a FAIL to be in God's Word. Any amount of time in His Word is useful and good for us!)
This book was recommended to me by a good friend and this is what I'm going to use this year! There are daily readings from the Bible and also a short devotional to go along with this!
Every Day with Jesus Daily Bible
I would love to have you join me! But, here is the thing…I'm not creating a Facebook group, I'm not making pretty printables and I'm not committing to post every week as I'm reading! (LOL!)
What I CAN tell you is that I share a lot of my morning thoughts with Jesus on my Instagram account. Join me there! Again, it won't be daily, but it will be often! Instagram is my favorite community for sharing my morning Bible time and reading/hearing thoughts from others as well! I will be using the hashtags #EveryDayWithJesus and #BibleInOneYear so we can all find one another and encourage each other in God's Word!
Start Early
If you are like me and know there will be busy days ahead where you only have to miss the longer reading, join me in starting before the New Year starts! It might be just my personality, but I would rather be EARLY than LATE. 🙂
I probably will start this reading plan the week after Christmas. Of course, remember you can start ANYTIME that is good for you! What about today?
Everyday With Jesus
You can find the Bible with Devotions called Every Day with Jesus Daily Bible
 at Amazon. As I'm typing this post, the Kindle version
is 50% off. I personally would rather hold the book and highlight and underline, but I know there are some of you that enjoy your kindle reading as well!
You can really get a good idea of what each day's reading entails by looking at the sample pages on Amazon. You can see several days readings along with the devotional there.
More Bible Reading Plans & Tips