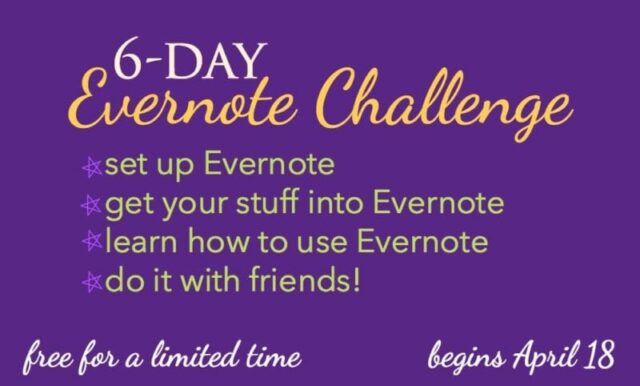 A new FREE e-course from Simplified Organization that starts MONDAY 4/18! I love everything that Mystie does so I knew I had to share this course with you.
Do you feel like your digital devices should be more useful to your real life? Do you feel like you aren't taking full advantage of the power in your pocket? Are you tired of all the random bits of paper in your purse and on your counter?
Evernote is the perfect place to begin using technology to make life run more smoothly.
Learn how to use Evernote for homemaking, managing the family, and homeschooling.
Move to a more paperless information storage routine to reduce the clutter.
See how technology can work for you, even if you aren't techie yourself.
Join this 6-day Evernote challenge and grow confident and efficient in how you use the program!
Designed for moms less comfortable using apps and digital solutions, this course will walk you through how to first set up Evernote in a clear and organized way, then teach you how to use it effectively and simply.
Register now for a free 6-day Evernote Challenge and learn how to effectively and efficiently use Evernote to manage your home and homeschool.
More Organizational Help
Mystie has several e-courses with multiple modules at various prices. She also has help for the kitchen! Check out all her options.