This summer has been crazy for me. Too crazy. My June calendar didn't look any different than any other month of the school year and that made me SAD. I wrote about verses to encourage you to SLOW DOWN and RELAX this summer…and finally, at the END of this summer, with just 2 weeks left, I am doing JUST THAT.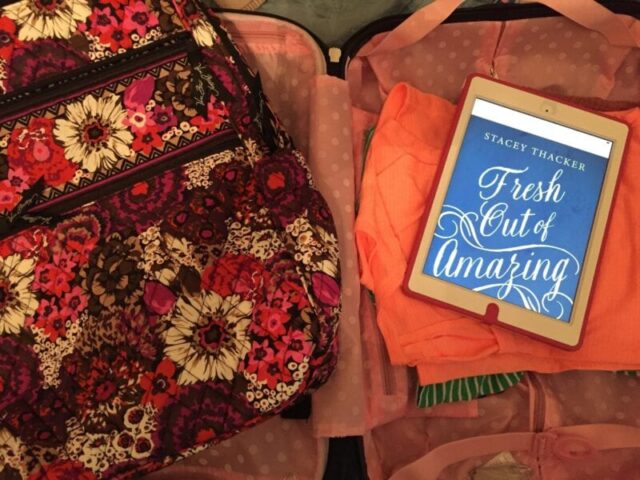 I've still gotten in some good reading! Here are some books I've been reading this summer…
Fresh Out of Amazing is the book for all women everywhere. You. Me. All of us. I know, if you're anything like me, the phrase "fresh out of amazing" resonates with you. Oh my. Stacey Thacker really will encourage your fresh out of amazing heart with this book. I'm about halfway through this one and am loving it. It comes out soon! You can pre-order and get some gifts! Read about the pre-order gifts here, scroll down.
Too Busy Not To Pray – I finished this book for our online book club and LOVED it. If you somehow missed out on the online book club, you can go here to read about it. We are finishing the book this week, but you can still join the facebook group and go back to watch all the videos that I created to go along with each week's reading!
Savoring Slow – this is another fabulous book. I'm only about halfway through it but I'm gleaning a lot and just being encouraged that it's OK to say no and it's OK to not have a full schedule. I feel like this is a vicious cycle for me. Once again I'm praying about what things I should take OFF my plate to enable my family to not be so busy. Note: this book does not appear to have much Christian content. I wish it did, however, I am still loving the book.
This book is 2.99 for Kindle at the time of this posting! 
The Awakening of Miss Prim is a fiction book that I devoured while on the plane to Belize for our mission trip. I was so sad when it was over! I first saw this book recommended on one of my favorite blogs — Elizabeth Foss wrote about it here.
This Kindle book is 3.99 at the time of this post. 
The Happiness Dare is a BRAND NEW book that just released and I'm LOVING it. I have to admit that I'm SURPRISED by how much I love it. If you've ever believed that "God calls us to be holy, not happy" then you will likely be as inspired by this book as I have been. This book challenges us with the question, "why does it have to be holy OR happy? Why can't we be both?" Ahem. She gives Scripture reference after Scripture reference of how Jesus had JOY even in the midst of his suffering.
**I will have a GIVE AWAY for this book coming up SOON. Stay tuned…
Ok. Your turn! What are you reading at the end of this summer? I want to hear about the books you're loving and even the books you're not loving. 🙂