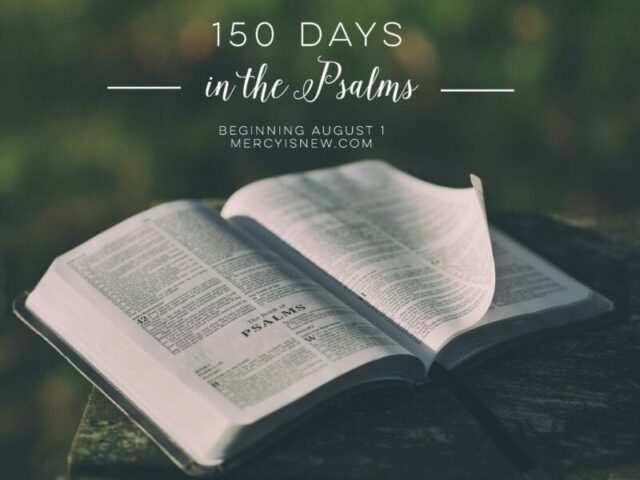 The Psalms have met me in various places in my life. God has used them time and time again to comfort my hurting heart, to challenge me, to inspire me, to remind me that I'm not alone, to bring light into my darkness, to help me feel the closeness of God.
When I first began Praying the Scriptures, it all started in the Psalms. The worship songs of the Old Testament met me in my depression and gave me glimmers of hope that were brand new to me.
Every few years I feel God nudging me to spend some time in the Psalms. This is one of those times. And I invite you to join me!
Beginning August 1, we will be spending 150 days in the Psalms! I hope you will join me. This plan will be more simple than others we've done, but I'm excited about it.
Why the Psalms?
Plan Details
Each day we will read 1 Psalm. I'm not planning to write the whole Psalm out. I am going to choose ONE verse to write, to focus on, to pray. I will be journaling some through the Psalms as well.
Each Day:
Read 1 Psalm.
Write 1 verse from that Psalm as your focus & prayer for the day.
Pray through the Psalm.
Journal through the Psalm.
Printable Schedule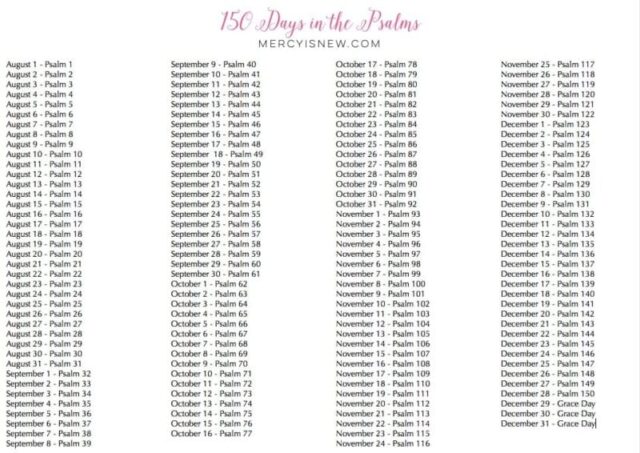 More Encouragement from the Psalms
One Year in the Psalms (writing and praying through the entire book in 1 year)
Write the Word FREE resources (schedules to write out Psalm 119, Galatians, Ephesians, Philippians, Colossians, James and the Last Days of Jesus from Matthew)
Praying the Scriptures FREE monthly calendars