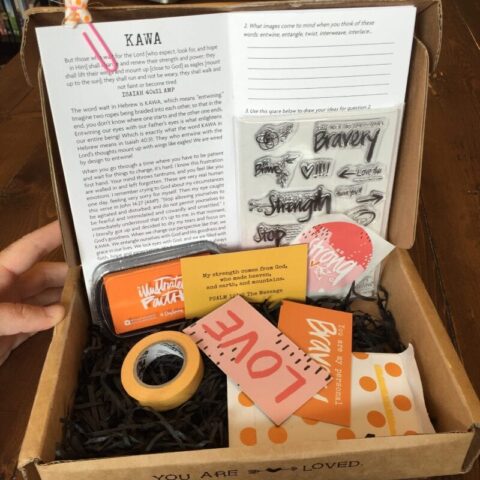 Strong is not a word I would use to describe myself. I cling to verses like 2 Corinthians 12:9 that say in my WEAKNESS He is strong. HE is strong, not me.
But, I am learning another perspective in the new devotional kit from Illustrated Faith and Dayspring. A beloved verse that has been one of my favorites for years has taken on new meaning for me! I love it when God speaks new and afresh from passages you've read for years.
"But they who wait for the Lord will renew their strength, they shall mount up with wings like eagles; they shall run and not be weary; they shall walk and not faint." Isaiah 40:31
So, this passage tells me that when I wait on HIM, He makes me STRONG. Whoa…
When I looked up "strong" in the dictionary, here were other words with this same meaning: powerful, brave, secure, fierce, fervent. Again, not words I would use to describe myself. But, if His Word is true (and I believe it to be so) He is MAKING me strong and brave. He is renewing my strength while I wait on Him!
Waiting on God and God alone has been a lesson I've learned time and time again. I even wrote an entire 40 day devotional on it. I've learned that many times in this life we are waiting on a lot of things…but not God.
But when we do wait on Him and not our circumstances to change, when we wait on Him and not that person to change, when we wait on Him and not that next stage in life, THEN He strengthens us. We must learn that our strength and our joy and our purpose comes from Christ alone.
What a beautiful promise.
New Devotional Journaling Kit
When I received this kit in the mail I thought it would be fun to do an "unboxing video" for you! You can watch this video and see all the contents of the box!