God's Word is a lamp unto our feet and a light for our path. It is a treasure. We come to know the God of the universe and His intimate love for us when we read and study the pages of His Word. If you want to know God more, reading & studying His Word is the way to do that. His Word is how we BEHOLD Him.
Yet, sometimes, we don't know where to start. We feel overwhelmed with the sheer volume of Scripture. We see so many methods available to us that we give up before we even get started.
I wanted to share a little more info with you on this brand new e-course called Bible Study Methods: 7 Ways in 7 Days. So, I did a quick facebook live video yesterday and I give you a sneak peek at the worksheets and videos in this course!
Beware: This is one of the most chaotic videos I've done. LOL! The dog is scratching at the door, my internet keeps going in and out, I'm hollering at the kids to get the dog. Oh well. A little glimpse into real life I suppose! 🙂
That is why I was so excited when I saw this brand new resource from my sweet friend Arabah Joy detailing 7 SIMPLE WAYS to STUDY God's Word. She is sharing 7 methods AND printable workbook pages to help yo get started on your journey of studying the Bible.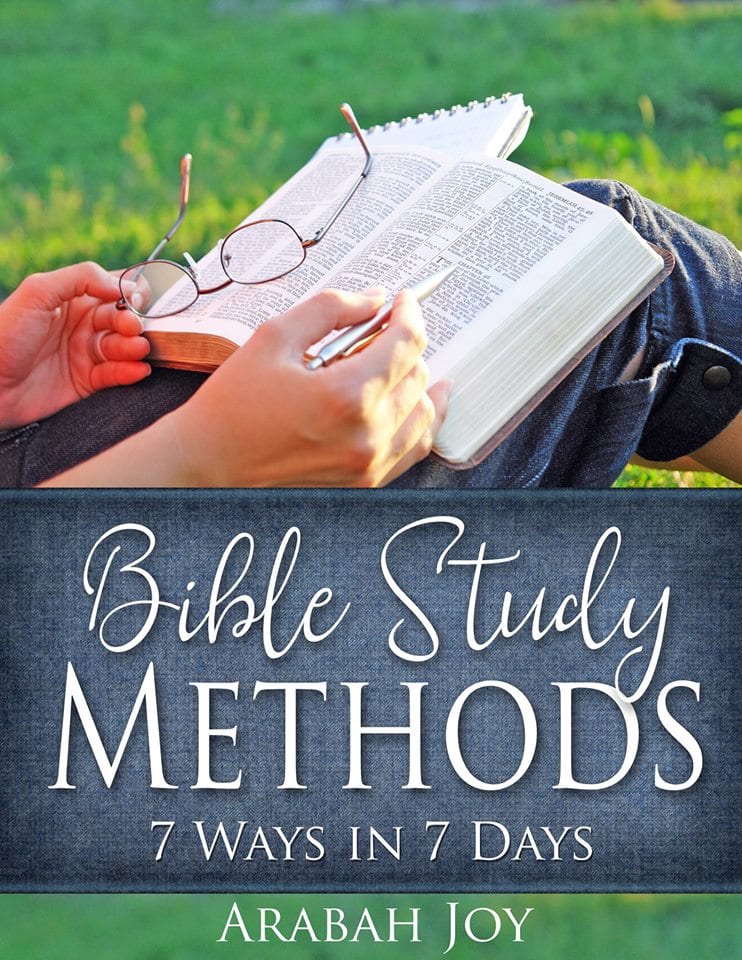 Bible Study Methods Course
When you purchase the Bible Study Methods course, you'll automatically receive all course materials including:
7 daily videos from Arabah Joy — one for each day of the course. In these videos, I'll show you exactly how to do each Bible study method, step by step. The 7 Bible study methods we'll cover are the

Topical Bible Study Method
TASTE Bible Study Method
Verse Mapping
Chapter Analysis Bible Study Method
APPLE Bible Study Method
Lectio Divina and
Word Bible Study Method

A comprehensive workbook outlining all 7 methods.
Printable worksheets for each of the methods. These printable templates walk you step-by-step through each process.
Follow-up challenges periodically from me 🙂 Iron sharpens iron, right?
The course videos and materials can be accessed via desktop computer, laptop computer, smartphone, or mobile device. You can choose to print the workbook or download it to your computer or phone. This is a self-paced course and you will have lifetime access to all course downloads and materials.
This 7-day course is designed to teach you 7 different Bible study methods that will revolutionize your time in God's word, equip you to nourish yourself with the Scriptures, teach you how to develop your spiritual senses, and discover fresh intimacy with God in the process.
I have been looking through all of the materials and watching the videos myself and I think this will be a really helpful study for many of you!!
What this course does is give you an excellent STARTING POINT so you can choose the method that best suits you in this season and dig in! It gives you options. And resources for each method!
Free Ebook From Me
When you order Arabah Joy's Bible Study course through my link, I will send you a FREE copy of my newly released and updated 30 Days of Praying the Psalms! If you already purchased this particular ebook, I will be happy to send your free copy to a friend as a gift to them from you!
If you purchase Bible Study Methods through my link, please send me an email at candace@mercyisnew.com and I will forward you my ebook Praying the Psalms!
This freebie deal is only good March 20-26.