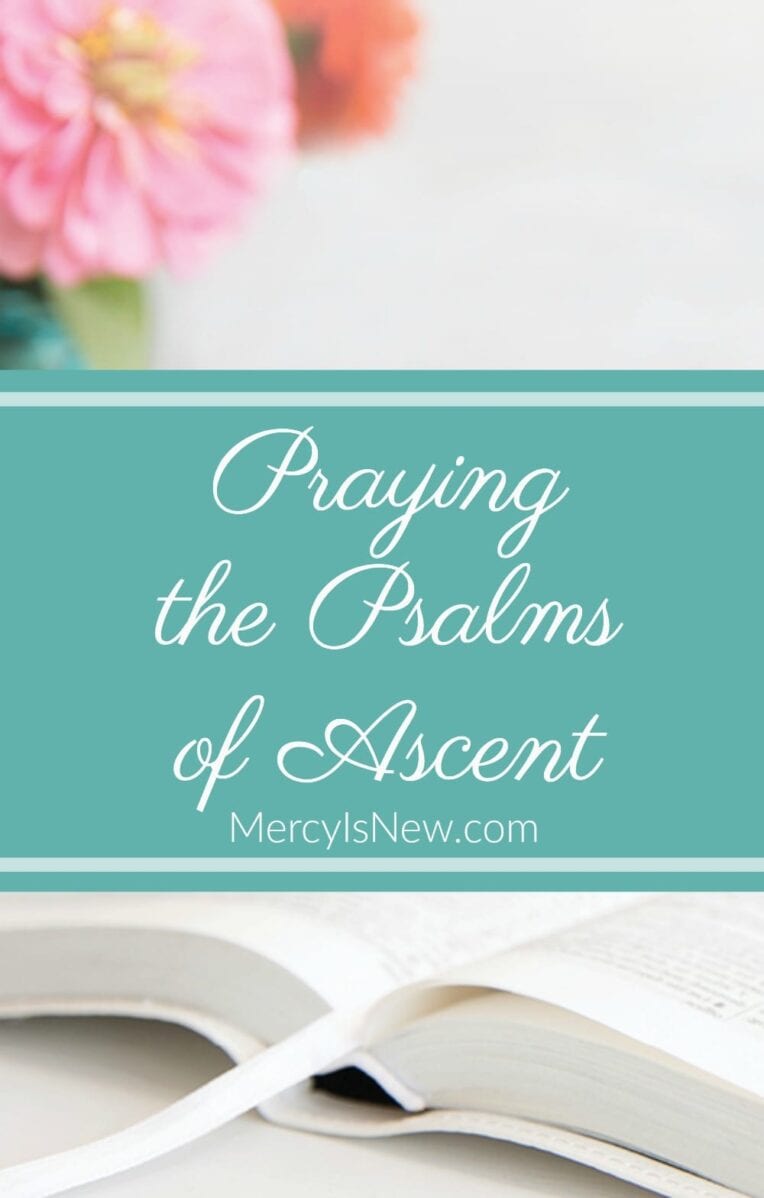 The Psalms are likely my favorite book of the Bible. We see the humanity of David, the battles, the worship…a man after God's own heart. They are my favorite Psalms to pray, my favorite Words of comfort, the encouragement and conviction my heart needs as I start each day.
"The Psalter is the prayer book of Jesus Christ in the truest sense of the word. He prayed the Psalter and now it has become his prayer for all time…we understand how the Psalter can be prayer to God and yet God's own Word, precisely because here we encounter the praying Christ…because those who pray the psalms are joining in with the prayer of Jesus Christ, their prayer reaches the ears of God. Christ has become their intercessor…"― Dietrich Bonhoeffer
The Psalms are some of the most beloved and well known words of the Bible. The Lord is my Shepherd I shall not want. He is near to the brokenhearted. Thy Word is a lamp unto my feet. Create in me a clean heart.
But the Psalms of Ascent are certain Psalms, chapters 120-134, and they are known as the Pilgrim songs. These Psalms remind us that we are on a journey. We are not home yet.
I don't know about you, but I need that reminder!
Praying the Psalms of Ascent
"The more deeply we grow into the psalms and the more often we pray them as our own, the more simple and rich will our prayer become."
― Dietrich Bonhoeffer
Here is a free printable PDF calendar for you to use as you go through the Psalms of Ascent. I have put just a few words to spark your prayers under each Psalm.
How do you pray the Scriptures? Read it, speak it, let the words of the Psalmist become your own prayers.
To receive a FREE guide book for Praying the Scriptures, subscribe here.
(I am doing this prayer calendar along with the She Reads Truth study for May of 2017, but you can use this calendar ANY time you'd like to spend a few weeks reading and praying through the Psalms of Ascent.)
Praying the Psalms of Ascent PDF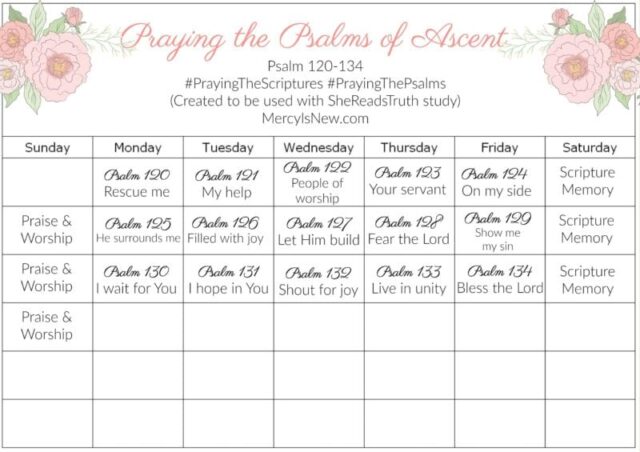 Praying the Psalms
"The Psalms wrap nouns and verbs around our pain better than any other book." Joni Eareckson Tada
Learn to pray the Psalms with this 30 day how-to guide along with a Psalm to pray each day!